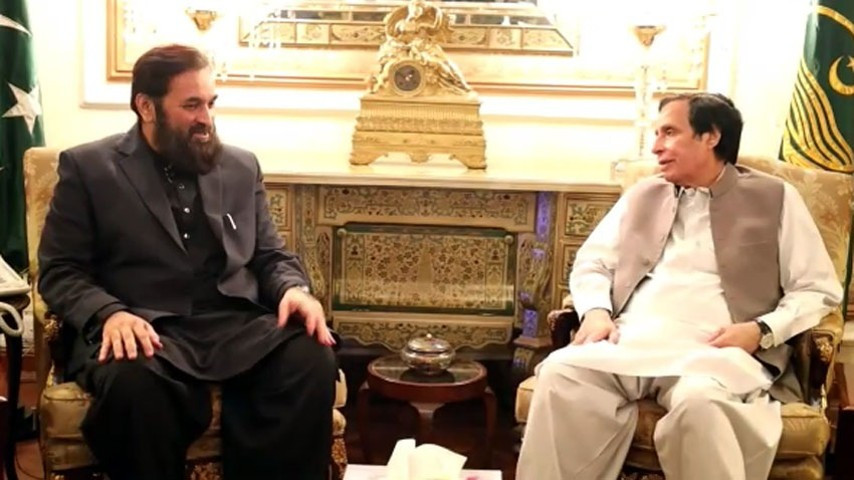 [ad_1]
The Punjab Assembly on Friday passed a resolution against Punjab Governor Balighur Rehman's "illegal" move to de-notify Chief Minister Pervaiz Elahi.
In the wee hours of Friday, Rehman had de-notified CM Elahi for failing to take a vote of confidence from the provincial assembly on Wednesday, December 21, on his order.
A notification issued by the Governor House after midnight had said that Chief Minister Elahi ceased to hold the office immediately while the provincial cabinet stood dissolved.
Read more: Punjab governor de-notifies CM
However, it added that Elahi would continue under Article 133 of the Constitution until a new chief minister was elected by the provincial assembly.
The resolution against the governor's move was tabled by Pakistan Tehreek-e-Insaf's (PTI) Aslam Iqbal. The opposition staged a walkout in protest amid the commotion by lawmakers of both treasury and opposition benches.
Speaking to the media outside Punjab Assembly, PML-N lawmaker Rana Mashhood said that a new chief minister will be elected in the province in next few days. "Hamza Shehbaz will be the new chief minister of Punjab," he added.
Also read: 'No need for further action': PML-N withdraws no-confidence motion against Elahi
He said that PML-N used its constitutional right by tabling the no-trust motion against CM Elahi, adding that a chief minister cannot dissolve the assembly when a no-confidence motion is pending against him.
Mashhood dared former prime minister Imran Khan to dissolve the Khyber-Pakhtunkhwa assembly as it was December 23, the date Imran gave for the dissolution of K-P and Punjab assemblies. "It is now proven that Imran Khan is only hungry for power… he does not care about anything else," he added.
Earlier in the day, PML-N withdrew the no-confidence motion against Pakistan Muslim League-Q (PML-Q) leader and incumbent Punjab Chief Minister Chaudhry Pervaiz Elahi.
In the Punjab Assembly, PML-N Chief Whip Khalil Tahir Sindhu and others submitted the signed petition to withdraw the no-confidence motion to the Assembly secretary.
The petition stated that after the notification of Governor Punjab Balighur Rehman on December 22, Elahi ceased to be the chief minister, therefore, there is no need for further action on the no-confidence motion against him.
The no-confidence motion was to be presented in the House today in a meeting presided over by Speaker Punjab Assembly.
The latest situation emerged in the wake of Imran Khan's announcement last week, that the provincial assemblies of Punjab and Khyber Pakhtunkhwa would be dissolved on Friday in order to force the coalition government to call early general elections in the country.
Imran had said that the dissolution of the two provincial assemblies, along with resignation of the PTI lawmakers in Sindh and Balochistan assemblies and those in the National Assembly would trigger new provincial elections and by-polls in nearly two-thirds of total constituencies of the country.
To prevent such a scenario, the ruling coalition, which mainly comprised the Pakistan Democratic Movement (PDM) parties, stepped up their efforts. On Monday, the PPP and the PML-N – two major parties in the alliance, filed a no confidence motion against the Punjab chief minister to delay the assembly's dissolution.

[ad_2]
Source link