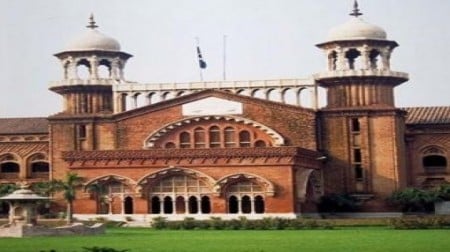 A division bench of the Lahore High Court (LHC), headed by Chief Justice Muhammad Ameer Bhatti, granted protective bail to Punjab Assembly's deputy speaker Wasiq Qayyum Abbasi in a case registered by Islamabad police under anti-terrorism charges amongst others.
The petitioner's counsel informed the court that his client is presently residing in Punjab assembly lodges and on gaining knowledge regarding the FIR, the petitioner tried to approach the concerned court for seeking bail before arrest to join the investigation. However, he claimed that the local police under, the influence of the federal government, had surrounded the court premises. Therefore, the deputy speaker now sought a bail order.
Read PTI vs establishment: Where do we go from here?
He implored the court that the FIR has been registered with malafide intentions and merely to pressurise and humiliate him and other co-accused in order to blackmail the leadership of the PTI.
He further argued that there are no reasonable grounds to allege that the petitioner is guilty of the offense with which he was charged with.
The counsel also said that the petitioner, if arrested, would suffer on account of harassment, humiliation, mental agony, and physical torture.
The petitioner's counsel contended that he is ready to join the investigation and, therefore, sought protective bail so that he could reach the relevant court to apply for bail.
The court accepted the petitioner's request and granted him protective bail for one week.
First Information Report (FIR)
It is pertinent to mention that Islamabad police had registered FIR against PTI's leaders and hundreds of unknown workers and supporters to control the law and order situation in the capital and charged them for setting public property ablaze, pelting stones, and injuring police officials when they were marching towards the ECP after former PM Iman Khan was disqualified.
Read More Gandapur has exposed PTI's aim: Sana
Islamabad police had nominated seven PTI leaders including PTI General Secretary Amir Mehmood Kiani, Senator Faisal Javed Khan, Deputy Speaker Punjab Assembly Wasiq Qayyum Abbasi, MPA Umer Tanvir Butt, MPA Raja Rahid Hafeez, Rashid Nasim Abbasi and Raja Majid in the FIR.
The complainant of the FIR Sub-Inspector (SI) Inam Ullah of Islamabad police lodged a complaint at the Industrial Area police station stating he along with his team was on special duty on Faizabad Bridge when more than 1,200 PTI leaders and supporters came and started a protest against the disqualification of the PTI chief.
He added the protestors including Amir Kiani, Wasiq Qayyum Abbasi, Faisal Javed Khan, Raja Rashid Hafiz, Umer Tanvir Butt, Rashid Nasim Abbasi and Raja Majid scuffled with cops and injured them. He said the police tried to stop the protestors and maintain the law and order situation when the irate mob violated the law and damaged public property.


Source link