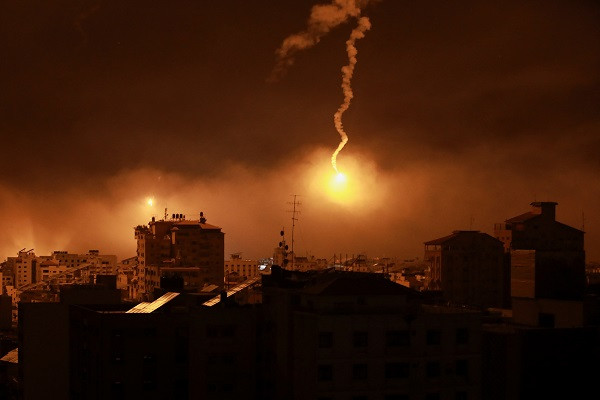 Over 80 dead in Israeli strikes on Gaza camp

GAZA:

A Hamas health official said more than 80 people were killed Saturday in twin strikes on a northern Gaza refugee camp, including a UN school used as a shelter for people displaced by the Israel-Hamas war.
Social media videos verified by AFP showed bodies covered in blood and dust on the floor of a building, where mattresses had been wedged under school tables in Jabalia, the Palestinian territory's biggest refugee camp.
Israel has vowed to destroy Hamas in response to the October 7 attacks which Israeli officials say killed about 1,200 people, most of them civilians in southern Israel, and saw about 240 people taken hostage.
The army's relentless air and ground campaign has since killed 12,300 people, more than 5,000 of them children, according to the Hamas government which has ruled Gaza since 2007.
"At least 50 people" were killed in a dawn strike on the UN-run Al-Fakhura school in the camp, which has been converted into a shelter for displaced Palestinians, a health ministry official in Hamas-controlled Gaza told AFP.
According to UN figures, some 1.6 million people have been displaced inside the Gaza Strip by six weeks of fighting.
UN humanitarian chief Martin Griffiths denounced the "tragic news of the children, women and men killed".
"Shelters are a place for safety," he posted on X, formerly Twitter. "Civilians cannot and should not have to bear this any longer."
Egypt called the bombing of the UN-run school a "war crime" and "a deliberate insult to the United Nations".
A separate strike Saturday on another building in Jabalia camp killed 32 people from the same family, 19 of them children, the Hamas official said.
The Israeli army did not specifically comment on the strikes but said its troops were expanding operations in Gaza, including in parts of Jabalia.
Israel has told Palestinians to move from north Gaza for their safety, but deadly air strikes continued to hit central and southern areas of the coastal enclave.
Read Gaza communications down again as Israel searches Al-Shifa hospital
Hamas's senior representative in Lebanon, Osama Hamdan, said 43 per cent of Gaza's war dead were killed in southern districts. "The occupation (Israel) does not differentiate between north and south," he said.
On Saturday, hundreds of people fled on foot after the director of Gaza's main hospital said the Israeli army ordered the evacuation of the facility where some 2,000 people were trapped.
Columns of sick and injured — some of them amputees — were seen making their way out of Al-Shifa hospital towards the seafront without ambulances along with displaced people, doctors and nurses, as loud explosions were heard around the complex.
On the way, an AFP journalist saw at least 15 bodies, some in advanced stages of decomposition, along a road lined by heavily damaged shops and overturned vehicles.The health ministry said 120 wounded, along with an unspecified number of premature babies, were still at Al-Shifa Hospital.
Israel has been pressing military operations inside the hospital, searching for the Hamas operations centre it says lies under the sprawling complex — a charge Hamas denies.In Gaza City, Israeli troops had called over loudspeakers to evacuate Al-Shifa "in the next hour", an AFP journalist at the hospital reported.
They also called the hospital's director, Mohammed Abu Salmiya, telling him to ensure "the evacuation of patients, wounded, the displaced and medical staff", he said. But Israel's army denied ordering the evacuation, saying instead it had "acceded to the request of the director" to allow more civilians to leave.
Read more UN says starvation 'imminent' in Gaza, no let-up in Israeli assault
According to Ahmed El Mokhallalati, a doctor at the hospital, "most of the medical staff and patients had left" but he was staying at Al-Shifa along with five other doctors."Many patients cannot leave the hospital as they are in the ICU beds or the baby incubators," Mokhallalati said on X.
Israel has imposed a siege on Gaza, allowing just a trickle of aid in from Egypt but barring most shipments of fuel over concerns Hamas could divert supplies for military purposes.
A first consignment of fuel entered Gaza after Israel's war cabinet bowed to pressure from its ally the United States and agreed to let in two tankers of diesel a day.
A two-day blackout caused by fuel shortages ended after a first delivery arrived from Egypt late Friday, but UN officials continued to plead for a ceasefire, warning no part of Gaza is safe.A strike on a residential building in southern Gaza killed 26 people, the director of the Nasser Hospital in Khan Yunis said.
"I was asleep and we were surprised by the strike. At least 20 bombs were dropped," Imed al-Mubasher, 45, told AFP.
The UN said Israel had agreed to allow in 60,000 litres (16,000 gallons) of fuel a day from Saturday, but warned it was little more than a third of what is needed to keep hospitals, water and sanitation facilities running.
Read further Biden terms Gaza occupation 'big mistake' as Israel says may need 'strong force' to stay back​​​​​​​
US President Joe Biden's chief adviser for the Middle East said more fuel deliveries and a potential "significant pause" in the fighting both depend on the release of hostages. "The surge in humanitarian relief, the surge in fuel, the pause… will come when hostages are released," Brett McGurk told a security conference in Bahrain.
More than half of Gaza's hospitals are no longer functional due to combat, damage or shortages, and people are waiting four to six hours for half the normal ration of bread. The military says it has found rifles, ammunition, explosives and the entrance to a tunnel shaft at the Al-Shifa hospital complex, claims that cannot be independently verified.
Israel has not recovered hostages at the hospital but said it found not far away the bodies of two kidnapped women including a soldier. Those held hostage range from infants to octogenarians, and there has been little information on their fate despite ongoing negotiations mediated by Qatar and Egypt to secure releases.
Waving Israeli flags and placards depicting the hostages, thousands of people reached Jerusalem Saturday on the fifth and final day of a march calling for their release.