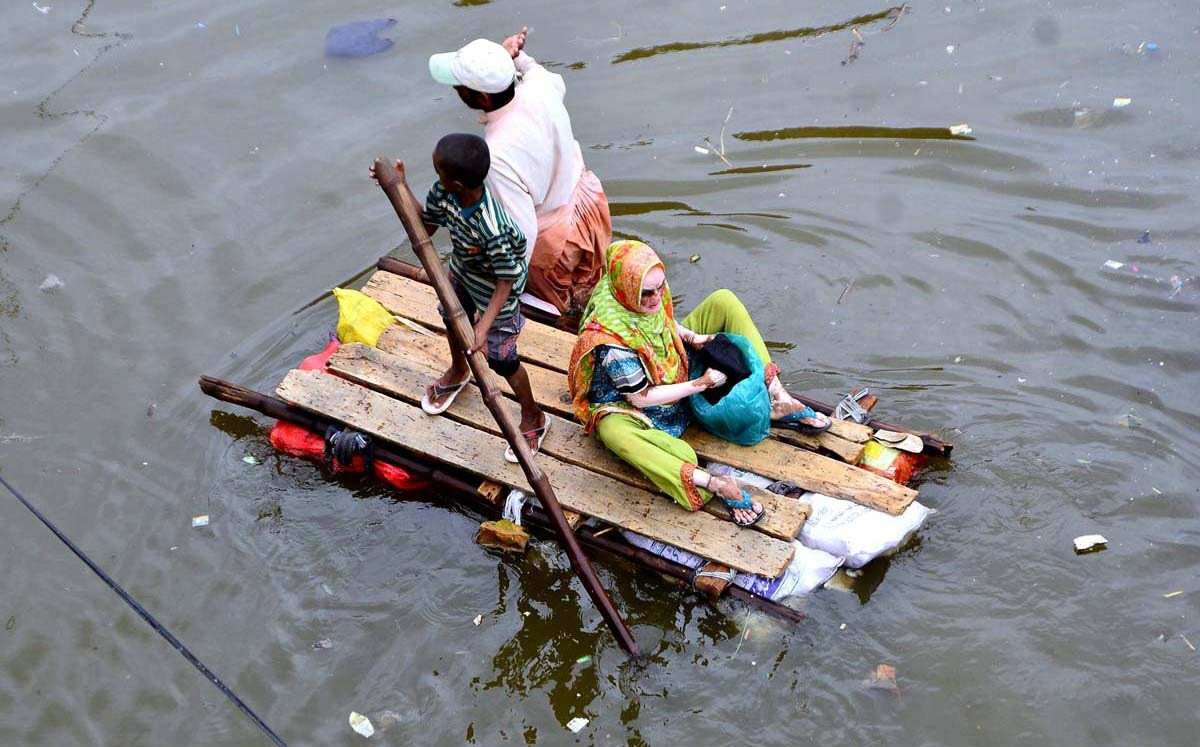 Flash floods unleashed by heavy rainfall continued to lash the province of Balochistan on Wednesday as hundreds were evacuated with the help of rescue teams, boats and helicopters.
According to Russian state media, the southwest region of Pakistan was ravaged by floods due to monsoon rains.
Hundreds were evacuated in Pakistan with help of rescue teams, boats and helicopters, as floods ravaged the southwest of the country after monsoon rains. Some 104 people were reportedly killed in the floods.
Follow us on Gab: https://t.co/IuhLFQjHB4 pic.twitter.com/eAqmHyTq3M
— RT (@RT_com) July 28, 2022
"Some 104 people were reportedly killed in the floods."
Army efforts underway
Two army aviation helicopters flew from Karachi to Othal and Lasbella areas, the Inter-Services Public Relations (ISPR) reported in a press release on Thursday.
According to the military's media wing, these helicopters had attempted to fly out during the last 48 hours but could not due to bad weather conditions. The helicopters would now shift stranded people to safer places and transport the necessary relief items.
The statement stated that the general officer commanding at Gwadar visited Othal to oversee rescue and relief efforts, and today the senior local commander at Khuzdar is set to visit the flood-affected areas.
The ISPR maintained that ground rescue and relief teams were busy in Othal and Jhal Magsi in shifting people to safer places and providing food and water to the locals.
Read Torrential rains wreak havoc in Karachi
They furthered that doctors and paramedics were providing medical care to affected people and the coastal highway had opened for all kinds of traffic.
"Efforts are underway to repair the damaged communication infrastructure and restore utilities. Protection bund in Turbat which was breached has been repaired," the media-wing said.
Additionally, the ISPR stated that troops were assisting civil administration in providing relief efforts in Punjab's Dera Ghazi Khan due to flash flooding and hill torrents.
Medical camps have been established by the army to provide medical care to local people affected due to floods.
In Sindh, apart from dewatering efforts in Karachi, the troops were occupied by relief efforts in Jamshoro and Gharo areas.
'No rescue'
With the skies likely to open up with more ferocious rains on Thursday, people in the flood-hit areas stranded due to the washing away of bridges and roads still await rescue.
Although Balochistan Chief Minister Mir Abdul Qudoos Bizenjo directed the authorities to airlift the stranded people, the helicopter could manage to evacuate only a handful of people on Wednesday as its efforts to reach more marooned people could not fructify owing to bad weather.
Meanwhile, the people have called out the ill-prepared infrastructure, lamenting that the floods have badly exposed the capacity of disaster management authorities to rescue them in the hour of trial.
"No helicopter, no rescue worker," a young man cried for help in a video widely shared on social media.
The man said a child died after the entire area was inundated by a deluge of rain, complaining no aid has been sent for the last three days.


Source link