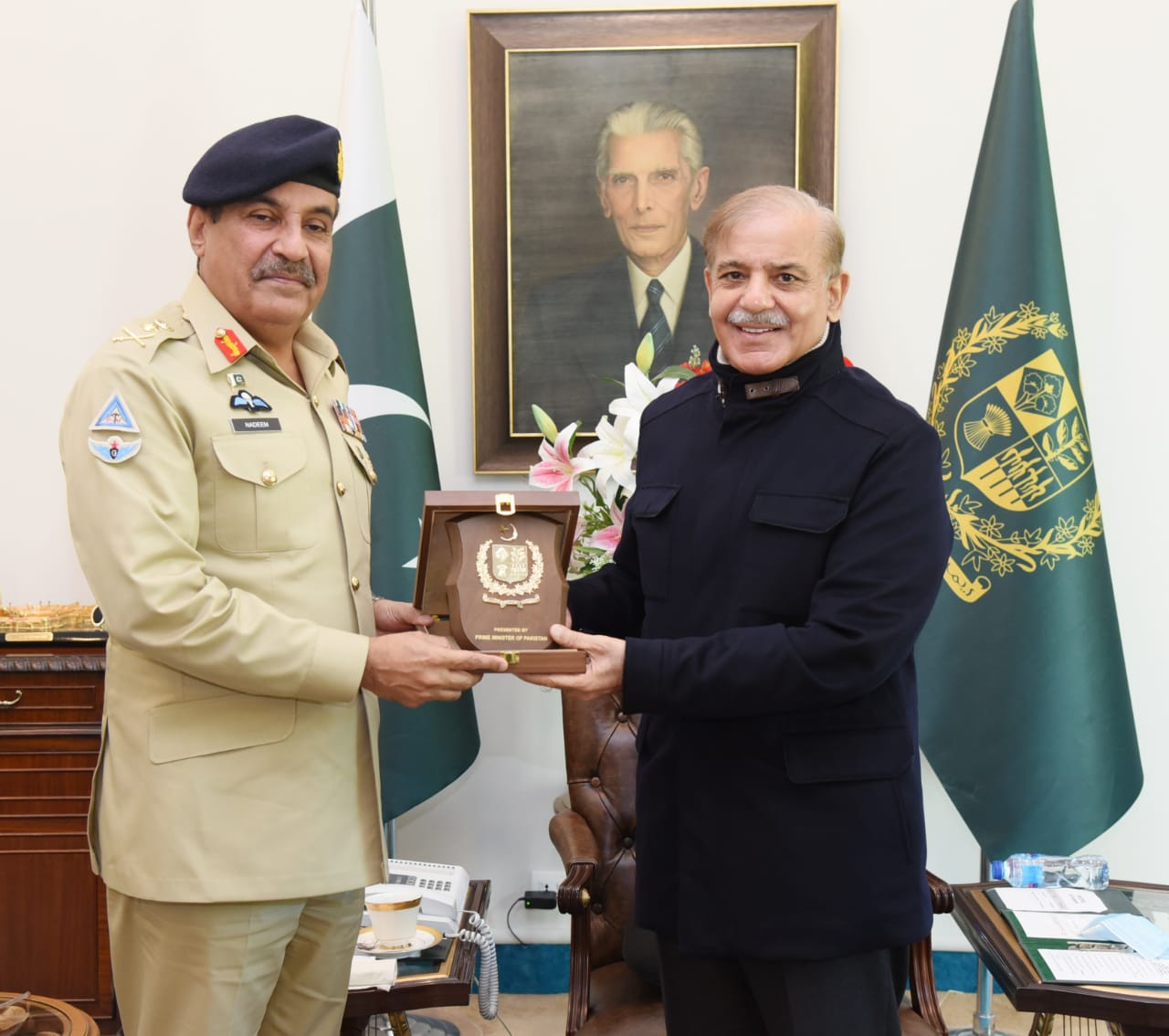 Prime Minister Shehbaz Sharif on Thursday paid tribute to Chairman Joint Chiefs of Staff Committee (CJCSC) General Nadeem Raza for strengthening the defence of Pakistan and for his services to the army.
In a farewell meeting, the premier told Gen Raza that he was proud of the general's services to Pakistan and that the "dignified and talented officer had rendered excellent services" at his post.
PM Shehbaz expressed best wishes for Gen Raza, and the CJCSC thanked the premier.
President Dr Arif Alvi also held a farewell meeting with the CJCSC wherein he appreciated the services of Gen Raza for national defence.
The president conveyed best wishes to the retiring officer.
On Wednesday, Raza paid farewell visits to the Naval Headquarters and Air Headquarters in Islamabad today, the Inter-Services Public Relations (ISPR) said.
Read Govt has other plans if Alvi delays COAS' summary
During his visits, Gen Raza called on Admiral Muhammad Amjad Khan Niazi CNS, Pak Navy and Air Chief Marshal Zaheer Ahmad Babar Sidhu, CAS, PAF.
"The CJCSC expressed his satisfaction on the combat readiness of Pak Navy and PAF and appreciated their resolve to safeguard the maritime and aerial frontiers of the country," the military said in a statement.
The naval and air chief thanked the outgoing CJCSC for playing a vital role in enhancing jointness amongst tri-services.
The meetings come shortly after PM Shehbaz on Thursday decided to appoint Lieutenant General Syed Asim Munir as the next army chief and Lieutenant General Sahir Shamshad Mirza as the new Chairman Joint Chiefs of Staff Committee (CJCSC).
Lt Gen Sahir Shamshad Mirza is the second on the seniority list. He is Corps Commander Rawalpindi. He also served as Chief of General Staff (CGS), a key position most army chiefs previously held.


Source link