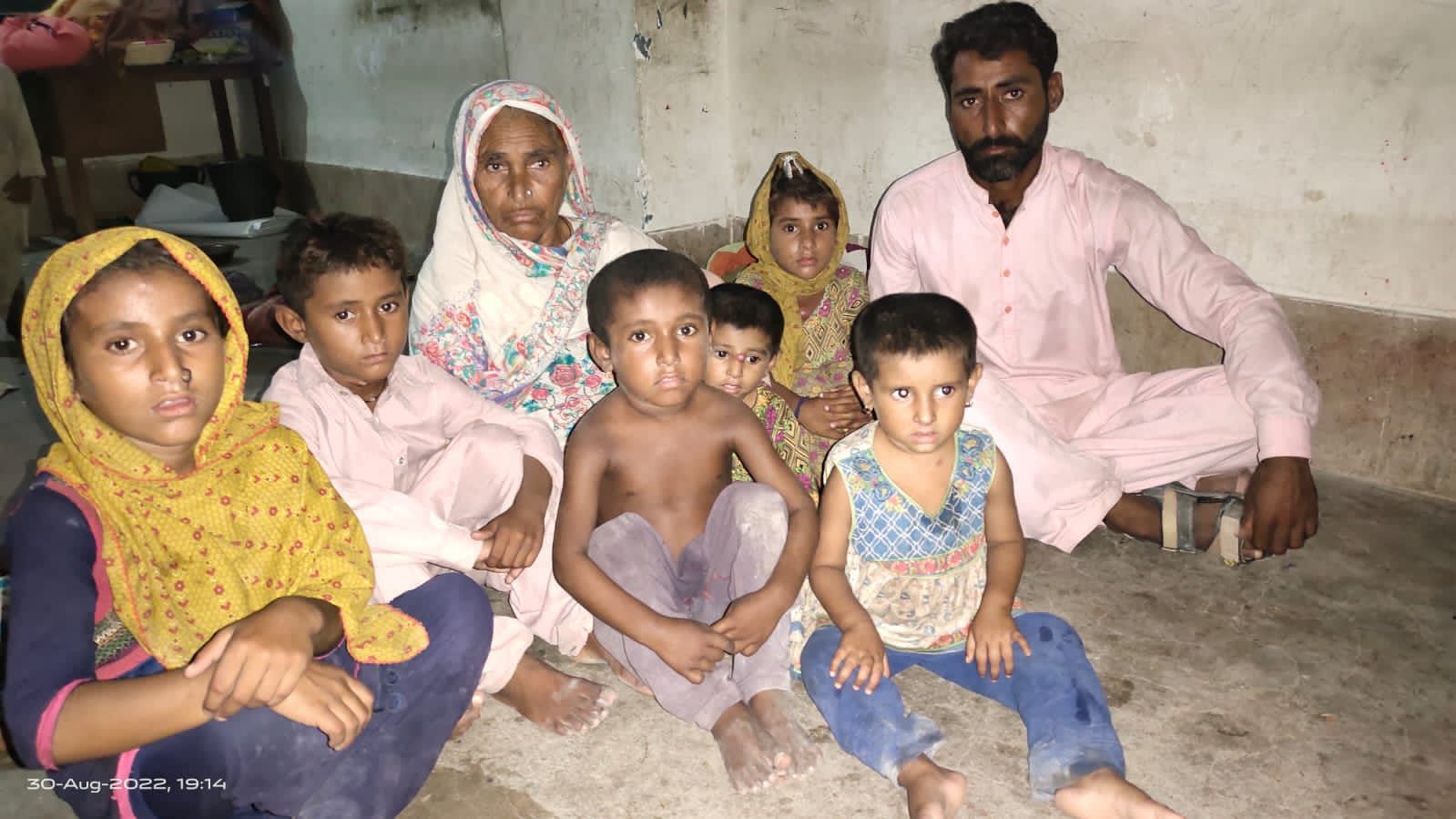 Mother nature has never been kind to Abdul Nabi Mirani who provides boat rides at Sukkur's Lab-e-Mehran to earn livelihood for his family of ten. Like other men of his tribe, he is an expert at swimming and diving, but unlike most other men, he has always used his God-gifted talent for welfare of mankind. His services are readily available for saving lives of people who fall in the river or fishing out dead bodies, stuck in the gates of the Sukkur Barrage. In his own quiet way, he serves humanity without any monetary benefit from government or district administration.
Hailing from a very poor family, living in a katcha (mud) house near Jahan Khan, the bordering area of Sukkur and Shikarpur districts, Mirani has always had the courage to fight the mighty Indus and win against it. But this time the superman was defeated by the unprecedented and continuous rains, which damaged his katcha house, forcing the family to take shelter in a flood relief camp in Sukkur, where he is living with his parents, wife and six children. Being a boat man, he remains available, most of the time, at the River Indus, where he gets an opportunity to save lives of people who accidentally fall in the river or flail while bathing in the river, other than fishing out dead bodies, and that too using his own boat. Abdul Nabi Mirani is an unsung hero who is doing this noble work since 2009, and that too without any official support.
Talking to the Express Tribune, Mirani, a sad smile on his face, says that ups and downs are part of life, and poor people like him and his family are used to braving calamities. He, however, is hopeful that soon his family would be able to move back to their home. The young man looks very composed, but I notice his misty eyes expose his feelings when he is looking at his children who complain of drinking water shortage. "In my house, I have installed a hand pump so that water is available round the clock. Here, most of the time, there is no electricity, which means no water. But we have to bear all these hardships, which hopefully will go away soon. All displaced persons will return to their homes and live in peace," he says, not letting go of hope.
Mirani's cousin Pyar Ali Mirani, a labourer, appreciates the painstaking work Mirani is doing, "This man is very much committed to humanity, and that is why he provides services to everyone without any support from anyone. Before the floods Abdul Nabi used to earn around Rs.1500 to Rs.2000 a day through his boat rides, but now the water level is so high, people are not allowed to visit Lab-e-Mehran. Now we have all been rendered homeless and jobless at the same time. In recognition of Abdul Nabi's services, Commissioner Sukkur awarded him a commendation certificate in 2019, and although it was a good gesture, certificates alone do not help you to buy groceries."
Mirani never seems to be complaining, but it is his desire that government officers should recommend his name for a government job to enable him to have more energy and proper resources to continue with his noble cause. Talking about his selfless services, Mirani shares, "As a child I often heard that so and so drowned in the river and their body remained stuck in the gates of the Sukkur Barrage for days, later fished out by divers of the Edhi foundation or some other NGO. So, I made a commitment to myself that I would provide my services to people. I started this work in 2009. So far, I am thankful to Almighty Allah for giving me the courage to save around fifty persons—besides fishing out more than 150 dead bodies from the Indus. In the recent days, I have found around thirty-six bodies that were stuck in the gates of the Sukkur Barrage. It is very risky job as I have to take my boat near the gates of the barrage, climb up the gate, take a rope, go into the water and fish out the body." Some of the bodies Mirani finds are so decomposed, it is very difficult for him to pull them out.
"I am doing this work without any support from the district administration, except for DIG Police Sukkur Jawed Sunharo Jiskani, who came to my house and provided me financial and other assistance," Mirani says. Thanking DIG Sukkur for his humanitarian gesture, he adds, "DIG has also promised to do his best to get me a government job. If I am given a government job, in any department, I will continue my work with renewed energy."
According to Mirani, most of the houses in his area have been damaged due to accumulation of rainwater. His appeal is to the government to arrange de-watering of the affected areas, so that people could return to their homes. "No doubt, in flood relief camps, we have proper shelter, food, water and medicines, but it lacks in homely comforts," he says.
Mirani's mother Hakeeman Khatoon, a very gracious woman, is thankful to the authorities for providing them shelter and food. "I never thought that someday we'd be rendered homeless like this, but I thank Almighty Allah for saving our lives." Talking about her only son she says, "I am fortunate that I have given birth to a social worker who feels happy about serving humanity." Replying to a question she says, "Yes, sometimes I get worried about my son who dives in the river without proper equipment, but immediately, I realize that he is doing a good deed and Allah will keep him safe."
Hakeeman Khatoon, appealing to the authorities to provide her son with some gadgets so that he could do his work more efficiently, says, "I am happy with what my son is earning and believe me, we don't need any free food or anything else; rather I would just request the authorities to drain out rainwater from our area. That will help us return to our homes and undertake necessary repair of our damaged houses." Talking about the relief camp she says, "We are being provided with every possible facility, but I would request the authorities to arrange anti-mosquito spraying."
Some other people, most of them from the labour class, are residing in the camp and express their satisfaction regarding the available facilities but are of the view that the authorities should take immediate steps to drain out water from the affected areas to enable people to go back to their homes.
Thousands of people like Abdul Nabi Mirani have been rendered homeless due to the torrential rains and are residing in flood relief camps. It will be an uphill task for the government, with just its own resources, to rehabilitate them. The rehabilitation process will require hundreds of billions of rupees, and that is why affluent people should join the government to help their brethren in this most tragic time.
When The Express Tribune contacted DIG Police Sukkur Jawed Sunharo Jiskani, his response was heart-warming, "This man [Abdul Nabi] is our hero who is always available either for saving drowning people or fishing out dead bodies. How it is possible for us to forget him at the time when he is so much in need of help?" On the question about arranging a government job for him, the officer said, "I have already talked to Commissioner and Deputy Commissioner, and I am hopeful that Mirani will soon get a government job."
DIG Jiskani, with the help of his well-off friends, is doing whatever he could to provide some comfort to the displaced people. "We have provided dry ration and cash to pushcart vendors as they too have become jobless. Though many flood relief camps have been established by the district administration and police, many displaced families are still sitting by roadsides, and we are providing them cooked food and water. Some of my businessmen friends have agreed to provide funds for reconstruction of fallen roofs and walls in some areas and have asked me to provide them a list of the affected people."


Source link