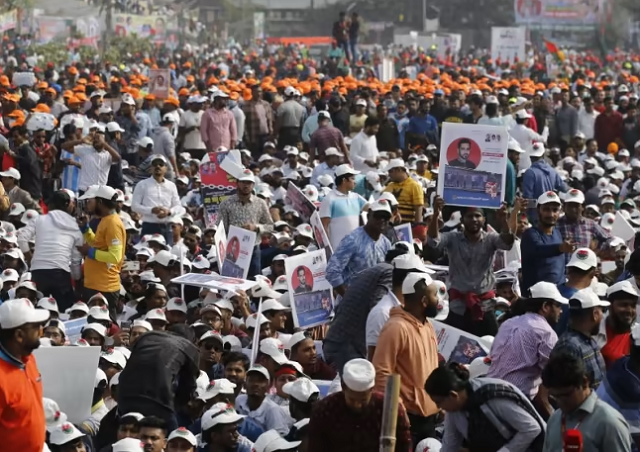 [ad_1]
At least one person was killed and over 50 others injured, including policemen, after supporters of the main opposition Bangladesh Nationalist Party (BNP) and police clashed on Saturday.
The party in a statement claimed that its district leader Abdur Rashid Arefin, 50, was killed when police fired at a rally and baton-charged the party supporters in Boda town of the northern district of Panchagarh.
Dozens of party supporters were also injured in the police firing, it added.
The local police, however, rejected the claim.
Md Rakibul Islam, a police officer in the Panchagarh district, told Anadolu Agency: "We came to know that a man died in hospital today (Saturday noon), about half an hour before the clash erupted between the opposition supporters and police."
"The victim's physical condition deteriorated suddenly due to a post-operational complication. There is no relation between the death and the clash," the police official claimed.
According to police, over 15 personnel were injured when the protesters attacked them.
The police also arrested around 10 protesters from the spot.
Muhammad Atiar Rahman, a friend of Arefin, told reporters on the spot: "We both joined the procession called by the district BNP. We were marching side by side, but got dispersed after police started baton-charge and firing rubber bullets at the procession."
"When we gathered at the party headquarters in Panchagarh, police again started baton-charge to disperse the protesters. Arefin tried to jump a wall of the BNP party office to escape the police action and fell on the ground." Police started beating him after he fell which caused serious injuries to Arefin, Atiar claimed.
Later, party men took him to a local hospital where doctors declared him dead, he continued.
Meanwhile, there were reports that over a hundred opposition men were injured in clashes with the police across the country.
The opposition BNP on Saturday took out their pre-announced rallies across the country at the district level to push for their 10-point demands.
The demands included a cut in price-hike, resignation of the Awami League party-led government, national election under a neutral caretaker government, and the release of Khaleda Zia, the 76-year-old party head and three-time prime minister, who has been imprisoned for 17 years in two graft cases since 2018.

[ad_2]
Source link