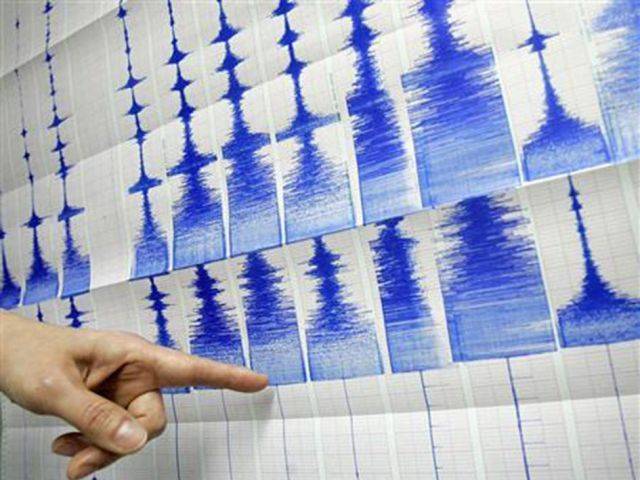 A man was reported to have died after the roof of his house collapsed following earthquake tremors that were felt early Wednesday morning in various areas of Khyber-Pakhtunkhwa.
According to police sources, Kashif Alam – a member of the local football team – was asleep inside his house in Lakki Marwat at the time the roof collapsed.
The earthquake tremors were felt in Peshawar, Dera Ismail Khan, Nowshera among other parts of K-P.
According to the National Seismic Monitoring Centre, the magnitude 6 earthquake's epicentre was central Afghanistan.
The tremors spread fear and panic as people rushed out into open spaces.
'At least 130 killed in Afghanistan'
The earthquake killed at least 130 people in Afghanistan, an official said, adding that at least 250 people were injured and checks were being conducted to see if the casualty toll might rise, Reuters reported.
The quake struck about 44 km (27 miles) from the city of Khost, near the Pakistani border, at a depth of 51 km, the U.S. Geological Survey said.
Read At least two killed in Balochistan landmine explosion
"Strong and long jolts," a resident of the Afghan capital, Kabul, posted on a the website of the European Mediterranean Seismological Centre (EMSC).
"It was strong," said a resident of the northwestern Pakistani city of Peshawar.
Shaking was felt by about 119 million people in Pakistan, Afghanistan, and India, the EMSC said on Twitter.
Photographs on Afghan media showed houses reduced to rubble.
Tremors felt last week
Earthquake tremors were felt in most parts of northern Pakistan, including Islamabad and Peshawar, last week.
The magnitude of the earthquake was recorded to be 5.1 and its epicentre was the Hindu Kush mountains along the Afghanistan-Tajikistan border while its depth was recorded at 222km.
According to tweets posted by residents on Twitter, tremors were felt in Attock, Islamabad, Faisalabad, Peshawar, and other parts of Khyber-Pakhtunkhwa.
In Peshawar, people rushed out of their houses and shops. However, there were no reports of any casualties.


Source link