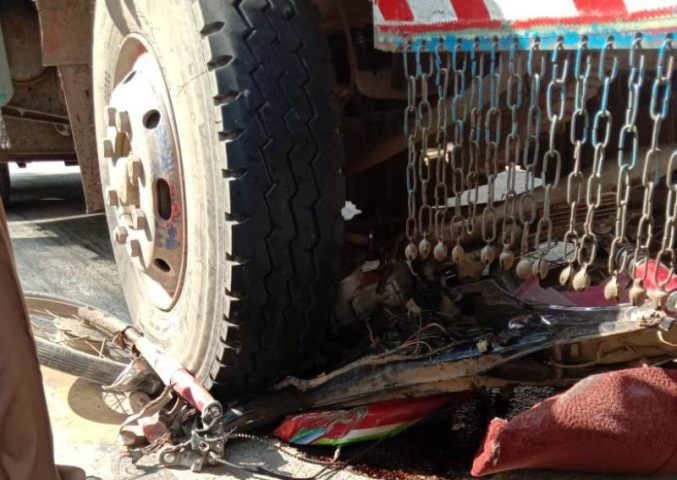 Ahmed Alam's wedding day was two days away and he was excited to go and pick up his sherwani. The family car was busy in other errands for the upcoming festivities, so he booked a motorbike through a ride-hailing service. The motorcyclist who arrived wore a helmet, but Ahmed didn't have one.
The shop he wanted to pick his clothes from was about 2km or just seven minutes away, so he didn't bother with a helmet. When Ahmed left home on the motorbike, little did he know that he would only be able to cover one kilometre.
It was November 5, 2018, when the motorcycle that Ahmed rode, collided with a car while descending the Gulshan Chowrangi Flyover in Karachi. Both riders fell off and in minutes, a dumping truck that had been following them, ran over the groom-to-be.
Unfortunately, this is just one of the thousands of road accidents happening in Pakistan annually. According to the data from the Pakistan Bureau of Statistics (PBS), in 2020, there were 10,379 road accidents, of which 4,566 were fatal and 5813 non-fatal. These have caused 5068 deaths and 13,059 injuries. Experts suggest that these are around 40% of the total accidents in the country, as many are unreported.
The 2020 World Health Organisation (WHO) annual report shows the total number of road accident deaths in 2020 reached 28,170, which was 1.93% of the total deaths that year. Around 50% of these accidents involved a motorbike. Approximately, 1500 life years have been affected due to disability from road crash injuries per 100,000 people.
According to the Punjab Bureau of Statistics, 75% of the registered vehicles on the road are motorbikes. Because a biker relies on two wheels rather than four, balance and driving skills are essential. Since it is simpler for the motorcyclist to spot automobiles, he/she has a higher chance of being hit than a car driver. Even a minor collision that damages a car can paralyse or kill a motorcyclist. The head (26.8%) is the most common injury site, followed by the back/abdomen (24.2%).
There are several reasons for motorbike accidents, and the motorcyclist is not always at fault. Still, the error of other motorcyclists on the road can create trouble for and endanger others.
According to the data shared by Karachi Traffic Police, 116 motorbikers lost their lives in the first 10 months this year, while 165 people died in road traffic accidents. Out of this, 65% of accidents involved heavy vehicles. The data shows that 11 people died in accidents involving buses, 12 by water tankers, 14 by collision with dumper trucks and oil tankers, 20 by trailers and 37 by trucks.
Apparently, the lack of streetlights, road engineering, missing traffic signs, drivers' proficiency, non-functioning traffic signals, and non-observance of traffic rules are among the multiple reasons behind these accidents.
Missing safety gear
Safety gear is the first thing that will save your life or prevent injury. A motorcyclist must wear full-face and modular helmets, motorcycle jackets, pants, boots, and gloves. In Pakistan, a significant number of fatal accidents happen because of not wearing safety gear. A study, Motorcycle Accidents in Punjab (MAP), shows that 52% people sometimes wear helmets, 10% never wear them, while 37% always wear them. Some 44% people do not wear helmets because they find them heavy, 33% because of hot weather, and 20% due to vision issues. Hence, 65.88% people without helmets were involved in fatal accidents.
Ahmed's brother Ahmer Alam shares that when Ahmed was leaving on the motorbike, their mother asked him to wear a helmet, but he declined saying that he was only going for a short distance and wanted to avoid the hassle of looking after it.
"I believe there should be a permanent law for wearing helmets," says Ahmer. "But whenever traffic police enforces helmets and imposes fines for not wearing them, everyone buys and wears them, no matter what. Once the enforcement becomes slack, most people stop using them without realising what it could lead to."
The MAP study also shows that motorcyclists are victims in 81% accidents, while in 19% accidents, it is pillion riders. Even when strict law is enforced, low-quality helmets are used as the government has not set a standard for the required quality and safety of the helmet. Low standard safety gear also increases the chance of fatal injuries.
Modifications done to motorbikes also lead to accidents. A new motorbike comes with two side mirrors and a carrier which young people usually remove. The study shows that 31.5% accidents happen because side mirrors are removed and 17% because of back carriers being removed.
Speed kills
The current speed limit in most of the country's urban areas is 90km/h which is 60km/h higher, according to the recommended Safe System Road (SSR). The speed limit for rural roads and motorways is 110km/h-130km/h respectively, which is 40km/h higher than SSR recommendations. According to the Global Road Safety Facility report, if SSRs are enforced, fatal road crashes will reduce 17% in urban areas, while six and four per cent in rural areas and motorways.
The MAP study shows that 53.64% of motorcycle accidents happened when the motorbike was speeding over 50km/h. Mostly, when a vehicle ahead of the idling motorcyclist suddenly turns at an intersection, the driver may fail to notice the biker, misjudge his speed or be fooled by a blind spot. Unable to stop, he collides with a car. The report shows that most were (31.77%) motorbike-car collisions.
Ahmer shares that an eye witness of his brother's accident saw the motorbike descend the bridge at high speed, and could not stop despite using both rear and front brakes.
Unfit and insecure motorcycles
According to the MAP report, the cause of the accident in almost 33% of the cases was a mechanical fault. Some of the motorbikes did not have functional lights or indicators. Out of the total accidents in 2020, 31.77% were due to mechanical fault in motorcycles.
The vehicle-wise breakdown of accidents in the Karachi Traffic police report shows that 31 trucks were involved in most accidents, out of which 28 were fatal. Ten out of 13 bus accidents, 18 out of 23 trailer accidents, 12 out of 16 dumper truck accidents, and 11 out of 19 water tanker accidents were fatal, as were 12 out of 16 oil tanker accidents.
The motorbikes seen on the roads in Pakistan are usually not well maintained, and some gears or parts can malfunction any time. But as there is no rule or vehicle fitness regulation, motorcyclists pay little attention to maintaining their vehicles. When the motorbike chain suddenly breaks, an accident happens. Road accidents due to mechanical faults may not cause too many injuries, but as these occur without prior notice or alarm, the vehicles following behind cannot help but collide, which may result in death, as in Ahmed's case.
Inexperienced/underage motorcyclists
A lot of underage motorcyclists don't follow traffic rules. These speed-loving, inexperienced and immature motorcyclists cannot judge the situation and often take wrong steps. For example, when they encounter a small mound of sand or gravel as they turn the corner and instantly dig their bike's front tyre in it. The combined impact of force and speed overturns the motorcycle.
The MAP report also shows that a quarter of motorcyclists involved in accidents in 2020 were unaware of traffic regulations. Apparently, 23% of them didn't have a driving licence, while most of those who had a licence were not aware of traffic rules. Ahmed Nawaz Cheema, the DIG-Traffic Karachi, agrees that all driving licences were not given through the standardised procedure and some fake licences are also around.
One sad day, on his daily commute to his coaching centre, 16-year-old Abdullah hit a car from the front, injured his skull and died. His family had bought him a motorbike for getting good grades.
"He was a bright student and always passed with good grades," says *Safia, Abdullah's mother. "He had joined a coaching centre which was 3km away from home, and he insisted on going on a motorbike. It usually took him 15 minutes to reach, and he would always text me upon reaching. He never went at high speed, but this time, he was with his class fellow, and even after 30 minutes, I didn't receive his text. I called him but there was no response initially. Then a man picked up and informed me that there had been an accident and Abdullah was being taken to hospital."
Abdullah's family had no idea they would lose their son like this. They now feel as though he would still have been alive if they hadn't bought him the motorbike. "It had only been a month since we got him the motorbike," says Safia. "We shouldn't have bought it for him. I request all parents not to get their children motorbikes before the legal age and without safety gear."
Innovative safety gear
While the government is making an effort to make new regulations for road safety, Zeeshan Shahid, an entrepreneur who lost a friend in a motorbike accident has developed the Motto Vest, a patent automated reusable, light-weight, weather-resistant airbag vest for men and women of all ages, designed to protect the vital organs of the human body. With this, Zeeshan aims to save lives and to create an injury and disability-free Pakistan.
"We focus on quality, innovation, improvisation, affordability and consistency to help our customers feel confident and secure," he says. "In an accident, our airbags take a fraction of a second to save the life of the motorcyclist. The basic purpose is to reduce the impact of the accident, and instantaneously act as first aid."
After witnessing many motorbike accidents daily, and injuries and deaths due to zero precautionary measures, Zeeshan felt there was a need for safety jackets. "After talking to several stakeholders, we realised we were not the only ones looking for safety and security for motorcyclists," he shares.
The Motto Vest recently won an award at the Shell Tameer Awards 2022, held to encourage and support young entrepreneurs. It has also been the winner of Microsoft Imagine Cup 2021, Startup Early Competition 2021, selected for Misk Launchpad KSA 2021 and the winner of Technopreneurship Competition.
Zeeshan believes that if the Motto Vest is made accessible, it can help reduce fatal accidents. "Motorcyclists risk their lives just to deliver us food and goods on time," he says. "So it's our responsibility to support them and add value to their life as they remain 10 to 12 hours on the roads daily, just to facilitate us."
According to the 2019 WHO report, 53% accidents caused significant injuries that become lifetime disabilities. "Based on product testing results, the Motto Vest can decrease the chance of death and injuries by 85% in accidents," says Zeeshan. "And if we can achieve this, we will be able to save many lives."
Collective steps to be taken
It is imperative that the authorities and the public should make a collective effort to enforce motorcycle safety.
Since the head is the most vulnerable and a common injury site, helmets must be worn to prevent injuries. Regular maintenance of motorcycles should be done and a valid fitness certificate deemed roadworthy. Motorcyclists should turn corners slowly and pick up speed only when they are assured of unobstructed vision. Using front disk brakes to enable the life-saving hack of "trail braking" helps to use the front brakes before swapping it for throttle, and adds the much-needed balance by distributing the motorbike's weight forward.
Traffic rule awareness is a must, also so as not to endanger others. Surprise checking of driving licenses is important as are uniform, transparent and compulsory driving tests for obtaining a driving license. Over-speeding practices should be discouraged through speed breakers, speed cameras should be implemented, and motorcycle modifications that compromise on safety should be strictly prohibited.
*name changed to protect identity


Source link