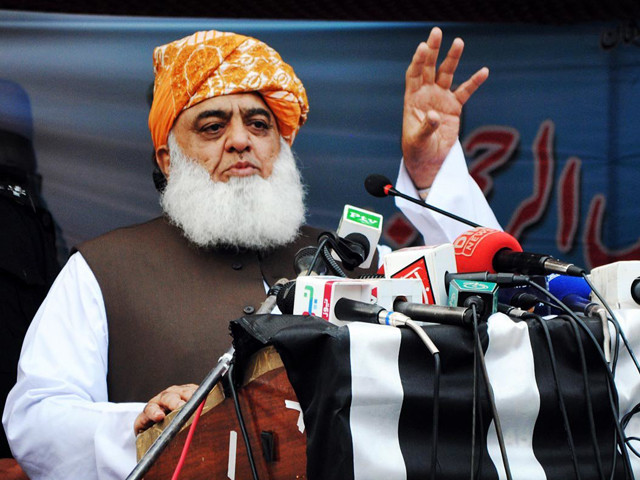 Jamiat Ulema-e-Islam (JUI-F) chief Maulana Fazlur Rehman has said that the Pakistan Democratic Movement (PDM), an alliance of ruling parties, will defeat PTI chief Imran Khan in the upcoming by-elections.
By-polls are set to take place on October 16 in various national and provincial assemblies' constituencies.
"October 16 will be the day of accountability for Imran Khan and the day of his departure from Khyber-Pakhtunkhwa as the entire nation will reject him in the by-elections," he remarked.
Fazl, who also heads the PDM, said this while addressing the ruling alliance meeting held at Padang Stadium in connection with NA-24 by-elections in Charsadda.
While congratulating the PDM candidates 'in advance' on their success in the upcoming by-polls, Fazl said he had been fighting against Imran for years to foil his 'foreign-backed conspiracies' against the country.
"The fitna [mischief] that we are fighting is stupid and delusional, backed by America and Jews. They are plotting the end of Pakistan, which we will defeat."
He said that the nation will not allow its mandate to be stolen this time.
"How can he contest the election again after he left the assembly? This person is making fun of the entire nation, democracy, economy and parliament.."
Also read: ECP rejects interior ministry's request to postpone by-polls
The PDM chief said the ruling coalition saved the country from the PTI's foreign-backed agenda by "defeating billions of dollars" — a reference to the prohibited funding case.
He said President Arif Alvi also admitted that Imran has lost his senses. Imran hampered the growth of the China-Pakistan Economic Corridor (CPEC) on the instructions of America, Fazl alleged.
"A person who cannot even take care of his own children, how can he take care of other people's children.."
"We have declared a Jihad against him and will drive away this fitna [mischief] from here," he added.


Source link