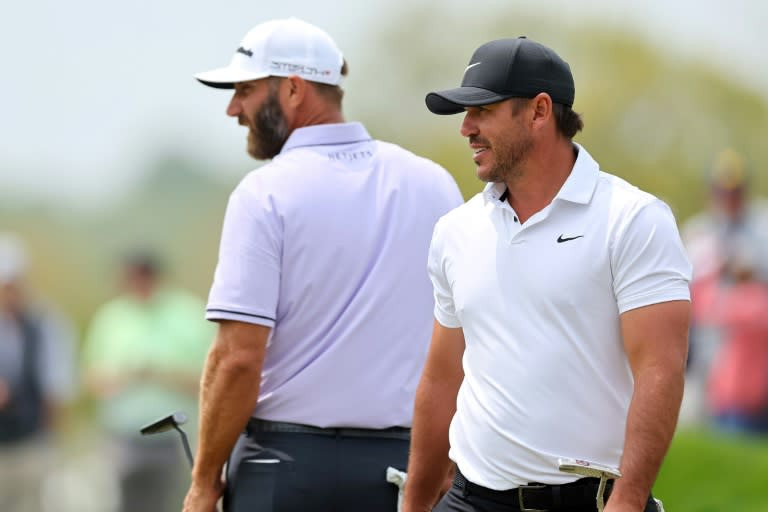 Dustin Johnson says LIV Golf stars have nothing to prove at this week's PGA Championship and that was true before three players finished in the top six at the Masters.
Two-time major champion Johnson is among 16 players from the Saudi-financed breakaway series who will compete this week at Oak Hill, six of them past major winners.
Record $25 million purses helped LIV attract big names from the PGA Tour when it debuted last June, the tour banning those who departed. The feud is set for a trial next May.
"I would hope at some point we can all co-exist and work together," Johnson said. "That would be nice."
In the meantime, the majors are the only place where PGA Tour and LIV players compete.
Any concern LIV's 54-hole events and lighter schedule might hurt stars were answered when Brooks Koepka and Phil Mickelson shared second behind Masters winner Jon Rahm last month at Augusta National.
But for Johnson, a past Masters champion who won last week's LIV event in Tulsa, that wasn't a worry.
"I've proven myself out here for a long enough time where to me I don't need to keep proving myself," said Johnson.
"I already have for many years. Same with all the other guys. Where we play at, it doesn't change the style of golfer we are."
Mickelson is a six-time major winner. Koepka claims four major triumphs. Australia's Cameron Smith is the reigning British Open champion.
And Johnson could become the first player since Rory McIlroy in 2014 to win the PGA Championship after a triumph the week before.
"Nice coming off a win," Johnson said. "Still playing against unbelievably good golfers. The scores the last few tournaments we played were a lot lower than I thought they would be.
"You've got to play well every single day if you want a chance to win. Played really solid all three days. Driving it well, controlling the distance with the irons, starting to wedge it a lot better, and then rolled in a few putts."
Koepka said he has learned lessons from losing the lead early in the final round at the Masters, although he kept details to himself.


Source link