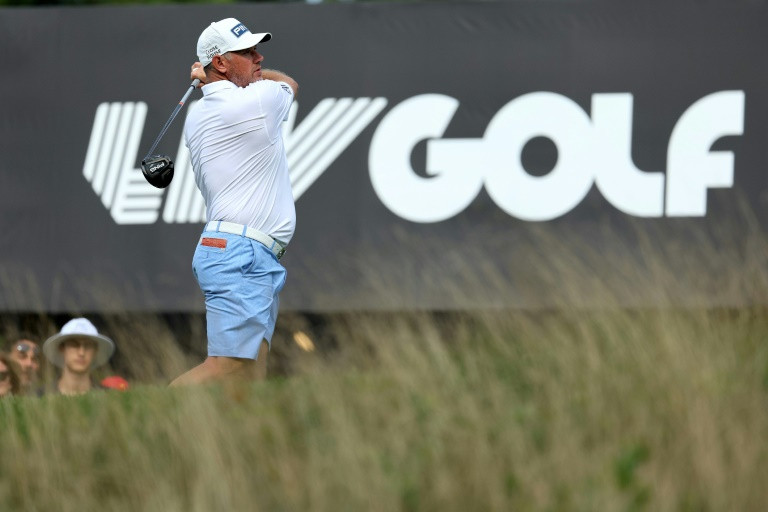 LIV Golf chief Greg Norman said Thursday he hopes there will be a resolution to the sport's civil war but warned he would "always support our players" after the Europe-based DP World Tour won a legal battle.
An arbitration panel this month ruled that the DP World Tour was correct to impose sanctions on members who appeared on the rebel LIV circuit without permission.
It came after England's Ian Poulter and Lee Westwood were among 12 players appealing against punishments the tour wanted to impose on those who took part in the inaugural LIV event near London last year.
Norman would not comment on ongoing legal matters, but said: "All I can tell you is this: From a LIV perspective, we'll always support our players.
"We always have said that since day one," he said in Adelaide ahead of LIV's inaugural tournament in Australia.
"We believe in where we're going and we're going to be unwavering in that commitment."
The launch of the Saudi-backed LIV Golf last year divided the sport, with big-name players lured by huge contracts defecting from the PGA Tour and DP World Tour.
Acrimony and legal battles with US and European golf powerbrokers continue to mar the game.
But Norman also offered an olive branch, reiterating that he was keen to sit down for talks with both the DP World Tour and PGA Tour.
"LIV is not changing anything and we've always been consistent for the last 15 months of saying we're happy to sit down with you, we're happy to talk to you," the Australian said.
"We did with the DP World Tour. We've tried with the PGA Tour, consistently with zero, zilch, nothing. That's their choice. If that's your decision, fine, we're okay with that.
"But I do hope there gets to a position where there is resolution to this because the game of golf doesn't need to suffer. These guys (players) don't need to suffer."
LIV in talks about women's tour
Golf's rebel LIV tour is considering creating a women's circuit and has approached American and European players who are keen to be involved, chief executive Greg Norman said Thursday.
LIV Golf sparked turmoil in the sport when it launched last year with the backing of Saudi Arabia's Public Investment Fund, luring star players away from the men's US PGA Tour with lucrative contracts.
Norman now has his eye on doing the same with the women.
"That is a discussion we have internally on a regular basis," he said in Adelaide ahead of the maiden Australian leg of the 54-hole, no-cut tour, which features 48 players in 12 teams.
"I have personally had discussions with individual LPGA Tour players, LET Tour players, Ladies European Tour. They love what our product is showcasing.
"They ask all the time, 'How can we get involved?' We'd love to see a LIV ladies series."


Source link