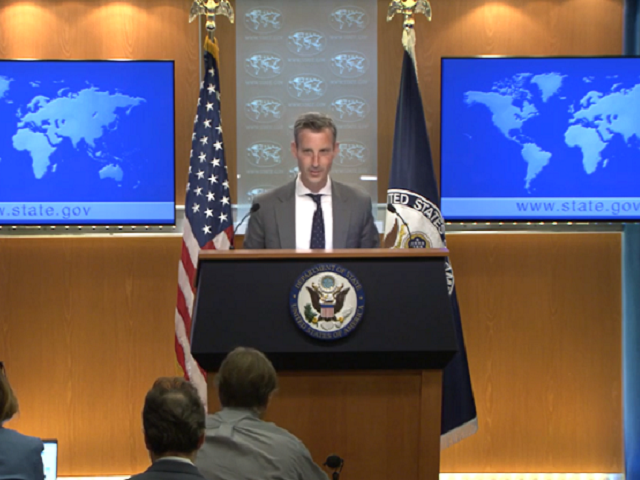 [ad_1]
US State Department spokesperson Ned Price, during a press briefing, said that Washington's partnerships with Pakistan and India were "relationships that stand on their own".
Earlier this month, Prime Minister Shehbaz Sharif had asked Indian Prime Minister Narendra Modi to hold serious and sincere talks to resolve "burning issues", including Kashmir.
"My message to the Indian leadership and Prime Minister Narendra Modi is that let us sit down on the table and have serious and sincere talks to resolve our burning issues like Kashmir," the prime minister had said in an interview with Al Arabiya.
Read India invites CJ, FM for SCO meetings
The Prime Minister's Office (PMO) later clarified that negotiations with India were only possible if the "illegal action of August 5, 2019" is reversed and "without India's revocation of this step, negotiations are not possible".
Foreign Office Spokesperson Mumtaz Zahra Baloch had also said that Pakistan would welcome facilitation by the United States to break the stalemate with India on the longstanding Kashmir dispute.
At the time, she had been responding to a question by journalists about the recent statement made by Pakistan's Ambassador to the US Masood Khan, who spoke about the possible role of the US in the resolution of the Kashmir dispute.
While Washington in the past did play a role to ease tensions between the two nuclear-armed neighbours. The 2003 ceasefire understanding was brokered by the then Bush administration in order to allow Musharraf regime to focus on the war on terror.
Of late, however, the US has followed a more cautious approach and avoids getting involved directly in the Pakistan-India tensions.
In line with this policy, Price told reporters during the briefing that "we have long called for regional stability in South Asia. That is certainly what we want to see."
But added that "when it comes to our partnership – our partnerships with India and Pakistan, these are relationships that stand on their own. We do not see these relationships as zero-sum."
Read More Pakistan 'not interested' in cross-border operation in Afghanistan: Bilawal
"We have long called for regional stability in South Asia, but the pace, the scope, the character of any dialogue between India and Pakistan is a matter for those two countries, India and Pakistan," he stressed.
The spokesperson also extended his sympathies to those affected by the countrywide blackout in Pakistan.
The US, he said, has assisted Pakistan across many challenges, and "we are prepared to do so in this case if there is something that we are able to provide".
Nonetheless, he said that he was "not aware of any particular requests" for the time being.

[ad_2]
Source link