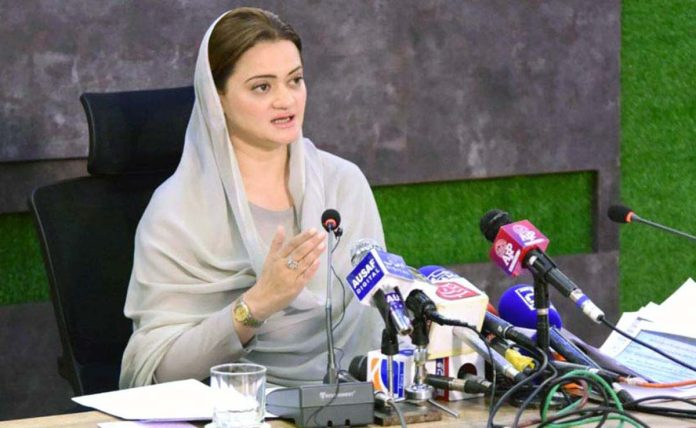 Minister for Information and Broadcasting Marriyum Aurangzeb on Saturday categorically ruled out any negotiations with those who were giving calls of a "bloody march".
In a statement, she said that Pakistan Tehreek-e-Insaf (PTI) Chairman Imran Khan "does not want transparent elections but chaos and bloodshed in the country".
"Real face of Imran Khan, his politics of lies and fake character have been exposed," she added.
She said that the reality of "foreign-funded fitna" can no longer be hidden by "spreading the mental filth on the streets".
Read more: PM forms committee to hold talks with PTI over long march
"The foreign-funded fitna should respond to the damages' notices [defamation case] of Prime Minister Shehbaz Sharif and Defence Minister Khawaja Asif before issuing such notice to the Chief Election Commissioner (CEC)," she maintained.
She said that Imran Khan was an absconder in the case filed by PM Shehbaz, seeking Rs10 billion in damages from the PTI chief for the past five years.
The Chief Election Commissioner was being threatened as he did not bow before the "foreign-funded fitna" and also refused to give him [Imran] an NRO, she added.
The notice was issued because "the CEC has brought an arrogant, obstinate and selfish man under the ambit of law and caught Imran's lies and fraud red-handed," the minister remarked.
Marriyum said the CEC caught Imran in Daska for stealing vote bags and kidnapping election staff.
Defence Minister Khawaja Asif too turned down claims of talks with the PTI.
"Elections will be held at a constitutional time, God willing," he stated. "Negotiations and consensus amongst political forces are part of democracy. However, there is no possibility of the kind of negotiations that the PTI is creating a ruckus about," he stated.
"Let Imran Khan fulfil all of his desires. Right now, the Indian media is giving him full attention and air time… enjoy that," he concluded.
الیکشن انشاءاللہ آئینی وقت پہ ھونگے. سیاسی قوتوں کا قومی مسائل پہ مزاکرات اوراتفاق راۓ جمہوری مزاج کا حصہ ھے.جن مزاکرات کا PTI راگ الاپ رہی ھےانکاکوئی امکان نہیں.عمران خان سارے شوق پورے کر لیں. اسوقت بھارتی میڈیا انکو بھرپور سر پرستی اور air time دے رہا ھے اسکو انجوائے کریں.
— Khawaja M. Asif (@KhawajaMAsif) October 29, 2022
'Govt not serious about negotiations'
Meanwhile, PTI leader Fawad Chaudhry has said the government was not serious about negotiations. He claimed that the Imran Khan-led march was still facing government-imposed restrictions.
حکومت کی مذاکرات کی دعوت کی خبریں غیر سنجیدہ ہیں،ایک طرف تحریک انصاف کے کارکنوں کو گرفتار کیا جا رہا ہے، #حقیقی_آزادی_مارچ کی کوریج پر پابندیاں ہیں دوسری طرف ایک غیر سنجیدہ کمیٹی کی تشکیل کی خبریں صرف آزادی مارچ کو انگیج کرنے کیلئے ہیں،یہ چالاکیاں نہیں چلنی انتخاب کی تاریخ دیں
— Ch Fawad Hussain (@fawadchaudhry) October 29, 2022
"On the one hand, PTI workers are being arrested and the Haqeeqi Azadi March's coverage is being restricted and, on the other hand, there is news of the formation of a frivolous committee," he said.
"These are tricks to only engage the Azadi March, and they won't work," Fawad added, demanding a date for the general election.


Source link