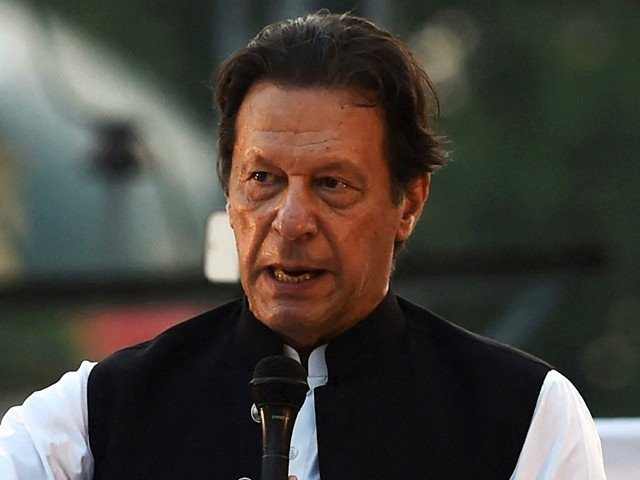 The General Headquarters (GHQ) on Thursday informed the Pakistan Tehreek-e-Insaf (PTI) that it has no objection to the landing and taking off of a helicopter, which would carry PTI chief Imran Khan from Lahore to Islamabad for the November 26 rally, at Parade Ground, saying PTI should approach the Capital Development Authority (CDA) or the federal government as the ground was under their jurisdiction.
Lieutenant Colonel Rao Farman Ali issued the no objection letter to PTI's Additional General Secretary Omar Ayub, stating that the "General Headquarters has no objection to the request for placement of helicopter subject to clearance by concerned authorities".
In addition, the GHQ's letter stated that "it is intimated that Capital Development Authority/Federal Government may be approached as the Parade Ground is under their jurisdiction".
The letter was forwarded for information to the CDA, Inspector General of Police, chief commissioner Islamabad, commissioner, deputy commissioner, city police officer of Rawalpindi, and the Military Operation Directorate.
The letter came after PTI sought permission to use Parade Ground for using a helicopter, which will transport the PTI chief from Lahore to the Capital for its November 26 rally in the garrison city.
Earlier, PTI President Islamabad Ali Nawaz Awan had submitted an application before the district administration seeking permission for the PTI's public gathering at Faizabad. He also sought the capital administration's approval for the landing and departure of Imran's helicopter at Parade Ground.
Read PTI told to seek permission from ICT administration for rally
On Wednesday, the Ministry of Interior cautioned PTI Secretary General Asad Umar about security threats against the party and its chief and urged them to postpone public gatherings for the ongoing 'Haqeeqi Azadi March'.
In a letter, the ministry requested that the security situation "prevailing in the country may be kept in view and the PTI leadership may consider the possibility of postponing public gatherings like the one planned in Rawalpindi on November 26 to avoid any untoward incident".
The Ministry of Interior maintained that it had been "sharing threat alerts generated by credible intelligence sources to the life" of PTI chief Imran Khan by "anti-state elements" that wanted to destabilise the country.
It further stated that the attack in Wazirabad, where former premier Imran was injured, had highlighted the importance of taking the threat alerts seriously, "particularly in the context of the resumption of the march and its culmination in Rawalpindi".
According to the letter, in view of the threats, the federal government had provided a bulletproof vehicle and deployed police and civil armed forces for Imran's stay in Islamabad. However, the party chief was presently in Lahore, and participants of the march had moved to Rawat.


Source link