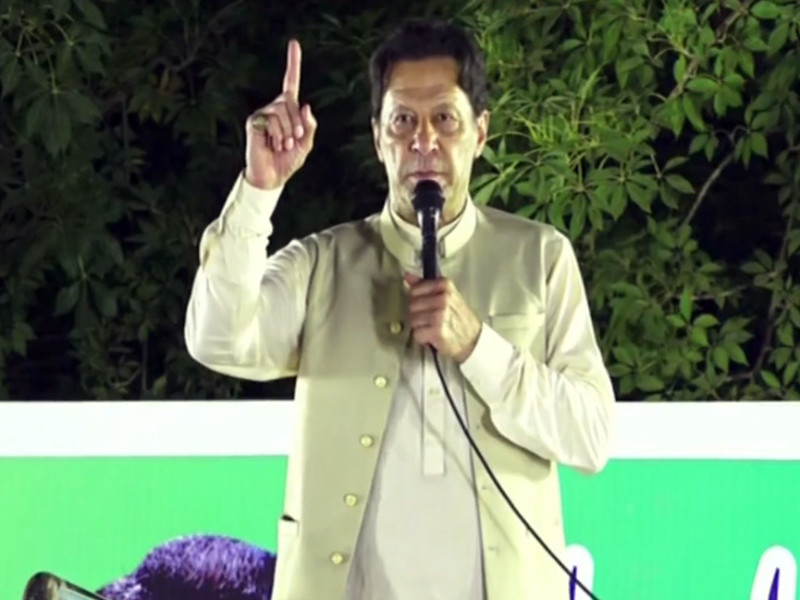 Former prime minister and Pakistan Tehreek-e-Insaf (PTI) Chairman Imran Khan has said that he does not fear "disqualification as he only fears the Almighty".
"They [rivals] are trying their best to prove that we [PTI] are also as dirty as they are [PML-N]. They are trying to disqualify me but I am going to court each day. I have no fear of disqualification. I don't fear these [court] hearings and I have no fear of prison. I don't fear anything because the one who says La Ilaha and it enters his heart, Allah makes him fearless," he said during a public gathering in Sharaqpur Sharif, a town of Sheikhupura District in Punjab.
https://www.facebook.com/ImranKhanOfficial/videos/661045379047656/
The deposed premier, who was removed from power through a vote of no-confidence in the National Assembly in April this year, said that the rulers are trying to prove to the masses that Imran Khan and former premier Nawaz Sharif are the same. "I am not a jackal like Nawaz. He fled abroad but Imran is going nowhere. Don't compare me to this thief."
He said that the rulers have stooped so low that they have even made fake audios and "dirty" videos of him. "They're trying to hurl so much mud so that people go against us," he added.
Imran also reiterated his stance that the cypher should be investigated, saying that if it is done in a transparent manner, his narrative about the foreign conspiracy will be proven.
Read more: IHC grants Imran protective bail in prohibited funding case
"I am saying here that the cypher should be investigated. Did Donald Lu not say 'Imran should be removed' to our ambassador? Didn't he say all will be forgiven if Imran is removed? They wanted to bring someone who could polish their boots … someone like Shehbaz Sharif. Whenever it [cypher] is investigated, it will be revealed that Imran will never be a US slave. Shehbaz was brought because he is an of being a slave."
During his address, Imran plays fake audio of Nawaz Sharif, Shehbaz Sharif and Maryam Nawaz in which all can be heard talking against Nawaz to prove his point about how easy it is to make a fake audio clip.
"They want to make deep fake videos to pressurise me so that people's attention get away from the record high inflation. Wheat was Rs55 [during PTI tenure] now it is over Rs100. Electricity was Rs16 and [now] it is Rs36 and with tax it is over Rs50," he added.
Also read: Imran hints at moving court over audio leaks
Imran said that petrol and diesel prices are being increased despite lower prices in the international market compared to PTI's tenure, adding that his government had a record tax collection and revenue and Pakistan's economy was growing by 5.7%.
Talking about an audio leak allegedly featuring Prime Minister Shehbaz Sharif, Imran said that the premier talks about imports from India despite a ban, adding that the leaks made it clear that the Chief Election Commissioner was ready to do rigging for the PML-N.
"I am going to give you a call very soon. My call will not be for politics but for jihad. You all have to come out for the country and for your future generations," he added.
At the end of his speech, he asks the participants to take an oath to support the "real freedom movement" as party leader Faisal Javed takes oath from the people and from Imran Khan as well.


Source link