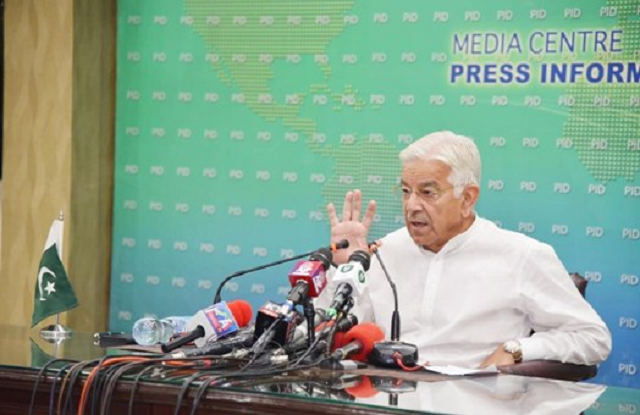 Defence Minister Khawaja Asif has said that appointment of next army chief is the prerogative of Prime Minister Shehbaz Sharif and no consultation has taken place in this regard thus far.
Speaking to the journalists at Parliament House in Islamabad on Monday, the minister clarified that a decision about the army chief's appointment has not been made yet.
The defence minister's statement came as issue of the appointment of the next army chief continued to occupy the centre stage of the national political discourse, with the government taking the pains to state that it would be done according to the Constitution.
The imminent change of guard gets mired in controversy amid widespread speculations.
Also read: Constitution to be followed in COAS's appointment: PM
The extended stay of Prime Minister Shehbaz along with his key advisers in London purportedly to discuss the key appointment and other issues of national importance with his elder brother Nawaz Sharif heightened confusion and sparked rumours about the issue.
"Holding consolations on the appointment of the army chief is the prerogative of the prime minister. However, no consultation has been held on the matter so far," the minister added.
Taking a jibe at PTI chief Imran Khan over his apparent U-turn on 'foreign conspiracy narrative', Asif said, "Is he doing this for the first time? He turns away from everything, how many things have been said in the last four years, did Imran Khan stand on anything?"
"Imran Khan himself does not remember what state he is in and what he says," he remarked.


Source link