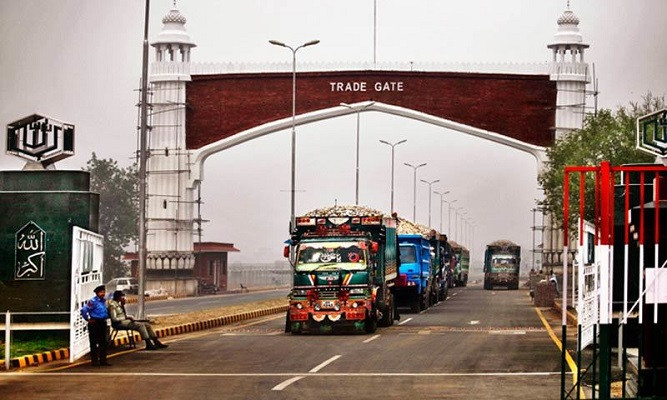 The coalition government on Wednesday clarified that there is no change in Pakistan's policy on trade with India after the federal cabinet approved the appointment of Trade and Investment Minister in the Pakistani High Commission in New Delhi.
The development has triggered speculations that the new government had decided to restore bilateral trade with India that has remained suspended since August 2019 when New Delhi revoked the special status of the disputed Jammu and Kashmir region.
"There is no change in Pakistan's policy on trade with India," a statement issued by the commerce ministry said.
The statement said the ministry managed 57 trade missions in 46 countries which includes the post of minister (trade and investment) in New Delhi.
"The post in New Delhi exists for more than two decades and has no connection with the operationalisation of trade with India or otherwise in the current context," it explained.
Also read: Slim chances of thaw in Pakistan-India tensions despite change of guard
It further noted that the current cycle for selection of Trade and Investment Officers (TIOs) including for New Delhi was initiated in December 2021 and the final recommendations of the interview board were sent to the Prime Minister's Office on April 1, i.e. during the previous government's term.
The incumbent government has given the final approval to the recommendations of the previous regime for the selection of 15 TIOs.
The appointment, therefore, may not be seen in the context of any relaxation of trade restrictions with India.
Pakistan suspended bilateral trade with India as part of a series of measures to downgrade ties with the neighbouring country after the Narendra Modi government unilaterally changed the special status of the disputed Kashmir region.
The government of former prime minister Imran Khan at one point did consider partially restoring bilateral trade with India as a result of back-channel diplomacy, which led to the renewal of ceasefire understanding along the Line of Control (LoC). The truce was renewed in February 2021 and is still holding.
Also read: Trade deficit peaks at $39.3 billion
As part of the confidence-building measures, the two sides were to gradually restore bilateral trade and Imran Khan, as in charge of the commerce ministry, did give a go-ahead to import sugar and cotton from India. The Economic Coordination Committee (ECC) also approved the decision but the federal cabinet blocked it fearing the public backlash.
The development is believed to have been seen as a setback to back-channel efforts seeking rapprochement between the two nuclear-armed neighbours.
In April, Prime Minister Shehbaz Sharif and his Indian counterpart exchanged letters and expressed the desire to engage but both put forward their respective conditions. Modi brought up the issue of alleged cross border terrorism while Shehbaz emphasised the resolution of the longstanding Kashmir dispute in order to normalise ties.
Given the uncertain political situation and coalition government, prospects of any major or visible breakthrough in the ties between Pakistan and India remain slim.


Source link