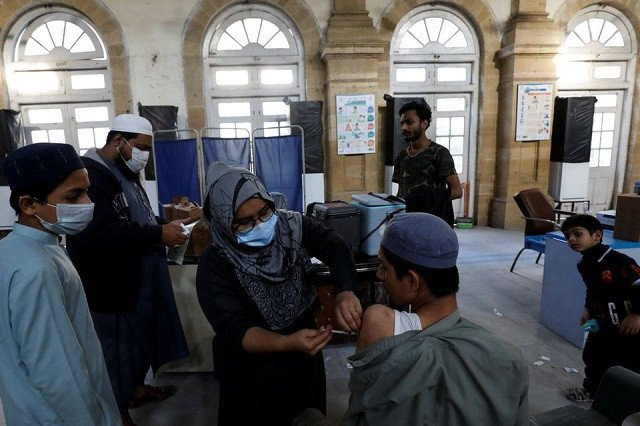 [ad_1]
As China grapples with new wave of Covid-19 infections, the National Command and Operation Centre (NCOC) on Saturday said that the new variant in China was also a threat to Pakistan.
As per the NCOC, there is a risk that the new variant may enter Pakistan after China decided to lift the lockdown and travel restrictions.
"The threat of the variant entering Pakistan is present because of lockdowns lifting in China and free travelling," the nerve centre of the government's anti-coronavirus strategy said in a statement.
Read more: New Covid model predicts over 1 million deaths in China through 2023
However, it added that Pakistan was fully prepared to tackle variant of coronavirus, saying that 90 per cent of the eligible population was completely inoculated.
The NCOC stated that the threat posed by the variant was low due to the vaccination campaign, adding that 95 per cent of the population was administered at least one vaccine shot.
Meanwhile, according to the National Institute of Health (NIH) data, about 4,403 people have gotten themselves tested for coronavirus in the last 24 hours.
COVID-19 Statistics 24 December 2022
Total Tests in Last 24 Hours: 4,403
Positive Cases: 13
Positivity %: 0.30%
Deaths: 01
Patients on Critical Care: 17
— NIH Pakistan (@NIH_Pakistan) December 24, 2022
As many as 13 people have tested positive for the virus, making the positivity rate at 0.30%.
One death has been reported while 17 patients are in critical care.
Covid resurgence in China
Chinese state media Qingdao Daily late on Friday cited a health official in eastern city of Qingdao as saying coronavirus was in rapid transmission stage in the city with 490,000-530,000 new daily infections, which was set to increase at a rate of 10% in the next couple of days.
Nevertheless, Zhang said he had visited nursing homes around Shanghai, noticing the number of elderly dealing with severe symptoms was low.
Also read: Shanghai asks residents to stay in on Christmas as China COVID surges
Nearly 37 million people in China may have been infected with Covid-19 on a single day this week, Bloomberg News reported on Friday, citing estimates from the government's top health authority.
Worries over the near-term impact of China's Covid wave pushed stock markets in China (.SSEC), Hong Kong (.HSI) and elsewhere in Asia lower. The yuan also weakened.
Infections in China are likely to be more than a million a day with deaths at more than 5,000 a day, in "stark contrast" with official data, British-based health data firm Airfinity said this week.
A Shanghai hospital has estimated half of the commercial hub's 25 million people would get infected by the end of next week.
Experts say China could face more than a million Covid deaths next year.
(With additional input from Reuters)

[ad_2]
Source link