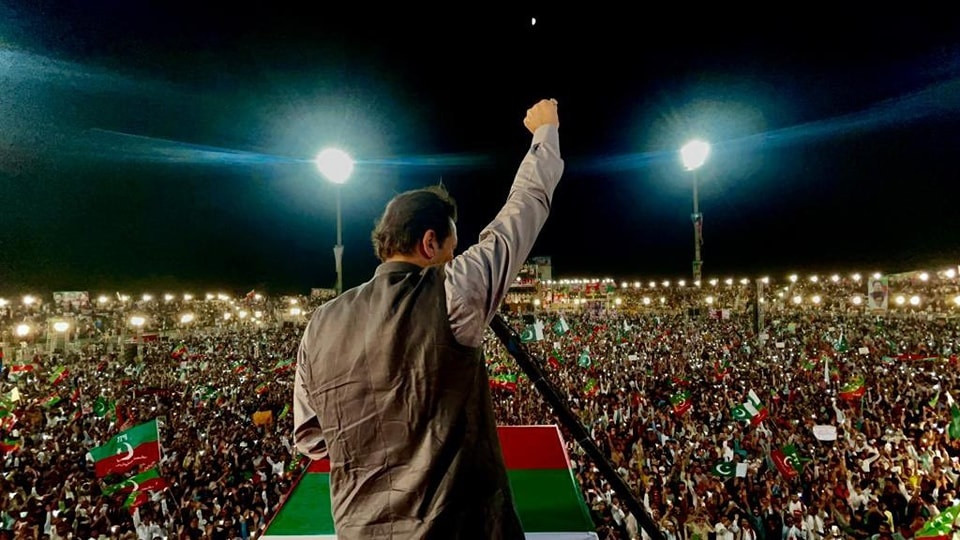 Pakistan Tehreek-e-Insaf Chairman Imran Khan fired a broadside at his political rivals on Sunday, alleging that Nawaz Sharif and Asif Zardari wanted to appoint the army of their choice because if a "strong and patriotic army chief" came, they would be questioned about their loot.
Addressing a public rally at the Iqbal Stadium in Faisalabad, the former prime minister asked the ruling coalition as to "why are they afraid of fresh elections"? He added that it was because they knew that they would be eliminated in transparent elections.
"The second reason is that the new army chief is coming in November. Zardari and Nawaz want to bring their favourite as the next an army chief because they have stolen public money," he said. "They are afraid that when patriotic army chief comes, he will ask them about their loot," he added.
Criticising the "imported rulers", he claimed: "[Prime Minister] Shehbaz Sharif, his brother [PML-N supremo] Nawaz Sharif and [PPP Co-Chairperson] Asif Ali Zardari are involved in laundering public money abroad."
The PTI chief maintained that when the country's exports were booming, agricultural production was at its record level and the economy was performing well, his government was toppled through a foreign conspiracy.
"The situation has changed now as the people are witnessing a rise in unemployment, fuel cost and electricity tariffs," he added. The PTI chairman announced that he would build big dams to curtail floods after coming into power.
He said his government's flagship billion tree tsunami programme would minimise the impact of climate change. Imran further announced that he would hold another international telethon next Sunday to raise funds for the flood-hit citizens of the country.
"I will soon collect billions of rupees again for the flood victims through another telethon," he added. He pointed out that to protect the country from floods in future, more dams needed to be constructed.
"Our government had constructed 10 dams after 50 years. There is a dire need to fix the country's drainage system. The PTI government had planted 10 billion trees to reduce the negative impacts of climate change in Pakistan," he maintained.
The former prime minister said the oil price was higher in the international markets during his regime. However, he claimed that he had provided relief to citizens by keeping fuel prices low.
"These 'imported rulers' have multiplied the fuel cost, electricity tarrifs and the prices of commodities. The nation asks from them who imposed these 'corrupt rulers' in the country. They have to answer for this betrayal," he added.
Imran claimed that the PTI government had provided subsidies to the people after the record collection of taxes during its tenure instead of increasing the financial burden on the nation.
He warned of another wave of inflation over the "directives" of the International Monetary Fund (IMF). He reiterated that political instability in the country can only be ended through fresh elections.
He asked the youth to be prepared for his call to achieve real independence in the country.


Source link