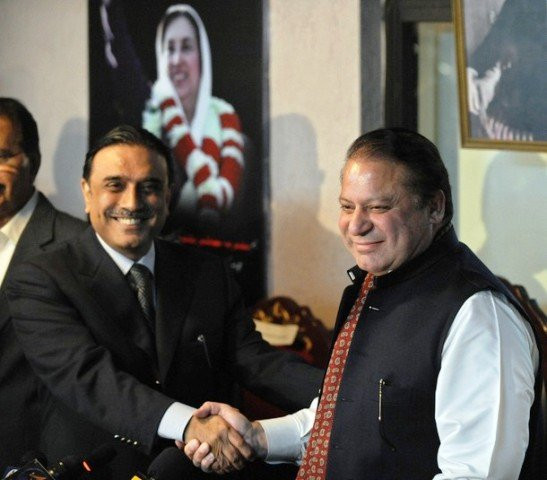 Pakistan Tehreek-e-Insaf (PTI) Chairman Imran Khan said on Sunday that the nexus between ex-prime minister Nawaz Sharif and former president Asif Ali Zardari had destroyed the economy of Pakistan.
Imran expressed these remarks during a meeting of party leaders in Islamabad. He reiterated that the only way out of political turmoil is immediate and transparent general elections in the country, adding that the economy's collapse is causing irreparable damage.
Read more: PML-N realising its mistake of siding with establishment: Fawad
Imran Khan, former prime minister who was ousted from power in April via a vote of no-confidence, said that the government is worried about remaining in power and not about the country's condition, adding that whatever they do the masses reject them.
"What happened in Punjab [by-elections] was seen by everyone. The nation will make their conspiracies unsuccessful," he added.
According to sources, future political strategy and the postponement of local body elections in Sindh were also discussed during the meeting which was attended by Shah Mahmood Qureshi, Asad Umar, Fawad Chaudhry and Shireen Mazari.
Earlier in the day, PTI leader Fawad Chaudhry had said that state institutions were stuck in a vortex due to the errors of their leadership, and nothing negative would have occurred if they had stayed within their limits.
Taking to his official Twitter handle, the former information minister said that the recent strategy of the Pakistan Muslim League-Nawaz (PML-N) would completely exclude the party from politics, however, institutions would suffer because of the mistakes of its leaders.
نون لیگ کی حکمت عملی نون لیگ کو سیاست سے مکمل باہر کر دے گی لیکن اداروں کو نقصان ہو گا، ادارے اس گرداب میں اپنی قیادت کی غلطیوں سے پھنسے ہیں اپنی حدود میں رہتے تو کچھ نہیں تھا لیکن بہرحال اب اداروں کو نون لیگ نے ٹارگٹ کرنا ہے ،
— Ch Fawad Hussain (@fawadchaudhry) July 24, 2022
"The PML-N will now target the institutions," he stated.
He maintained that the PML-N was only just realising that it had made a mistake by siding with the establishment against Imran Khan, and they were now making statements against the judiciary and statements against the army would begin in the upcoming days.
اب نون لیگ کو لگا عمران خان کیخلاف اسٹیبلشمنٹ سے نتھی ہو کر بڑی غلطی ہو گئ، مریم نواز اب اینٹی اسٹیبلشمنٹ چورن بیچیں، عدلیہ کیخلاف بیانات شروع ہوگئے فوج کیخلاف اگلے چند دنوں میں شروع ہو جائیں گے، اس اسکیم میں خامی یہ ہے کہ لوگ 1990 والے اب نہیں ہیں اور مقابلہ بھی عمران خان سے ہے
— Ch Fawad Hussain (@fawadchaudhry) July 24, 2022