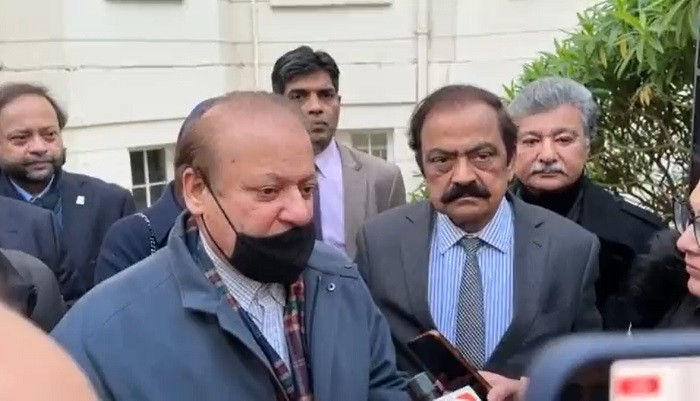 [ad_1]
Pakistan Muslim League-N (PML-N) supremo Nawaz Sharif on Thursday held ex-army chief General (retd) Qamar Bajwa and former director general of the Inter-Services Intelligence (ISI) General Faiz Hameed responsible for the current state of Pakistan.
Talking to media personnel in London after a long time, Nawaz referred to his Gujranwala speech where he had named both generals, who were serving at the time, for allegedly rigging the 2018 elections.
When asked if he held the former chief of the army staff Gen Bajwa and ex-spymaster Gen Faiz responsible for the state of the country, he maintained that "everyone was aware" of who is accountable and that no faces or names were hidden.
"They have spun Pakistan around themselves and have played a disgusting joke on the country," he said.
PMLN supremo @NawazSharifMNS holds General Bajwa and General Faiz for the current situation of pakistan, reminds of his Gujranwala speech in which he named both generals who were serving at the time, for rigging 2018 elections pic.twitter.com/Kku6KPlMZl
— Murtaza Ali Shah (@MurtazaViews) January 19, 2023
Nawaz stated that it was his "responsibility" to shed light on those responsible for cruelty in the country. He added that it was also his responsibility to make the populace aware and to "fix" the issues.
The former premier also called for a comparison between his tenure as prime minister and that of Pakistan Tehreek-e-Insaf (PTI) chief Imran Khan to showcase how prosperous people were under the PML-N regime.
Read Nawaz cannot return due to allegations against him: Aitzaz
In a thinly veiled reference to Imran, Nawaz stated that the populace suffered under the "madman's four years".
"We have taken over the government to help Pakistan come out of hardship. Otherwise, the situation created by him [Imran] had dragged us to the edge of destruction," he added.
انشاءاللہ اللہ فضل کرے گا پاکستان مشکل سے باہر نکلے گا اور ہم نکالیں گے ہم نے اللہ کے فضل و کرم سے پاکستان کی پہلے بھی بڑی خدمت کی ہے عمران خان جو پاکستان کا حشر کرگیا ہے اسکے چار سالوں کا میرے چار سال سے مقابلہ تو کریں.@NawazSharifMNS pic.twitter.com/QmLwb8SRyD
— Zeeshan Malik (@ZeshanMalick) January 19, 2023
The PML-N leader continued that his party would help usher Pakistan out of difficulties and that it was not impossible for the country to "stand on its own feet".
Nawaz was joined by his daughter and party's senior vice president Maryam Nawaz, Interior Minister Rana Sanaullah and other PML-N leaders in London to have discussions and dialogue about the current situation in Pakistan.
While Nawaz Sharif's return to Pakistan is on indefinite hold, the newly-appointed chief organiser of the party, Maryam Nawaz, is returning to the country in the coming days to formally kick-start the election drive.
Read More Only polls can avert 'Sri Lanka-like crisis'
Sanaullah, after a meeting with Nawaz and Maryam at his residence in London, reportedly said that the party's senior vice president will be returning to Pakistan next week but added that the election campaign for the party will be led by both father and daughter.
Regarding his visit to London, he said that he was seeking guidance from the party supremo regarding matters in Punjab. He also said that he was the provincial president of the party where preparations for elections have informally begun.
He declared that the party stands united behind Nawaz. He also emphasised that for the party's victory, it was important for Nawaz to return to the country.

[ad_2]
Source link