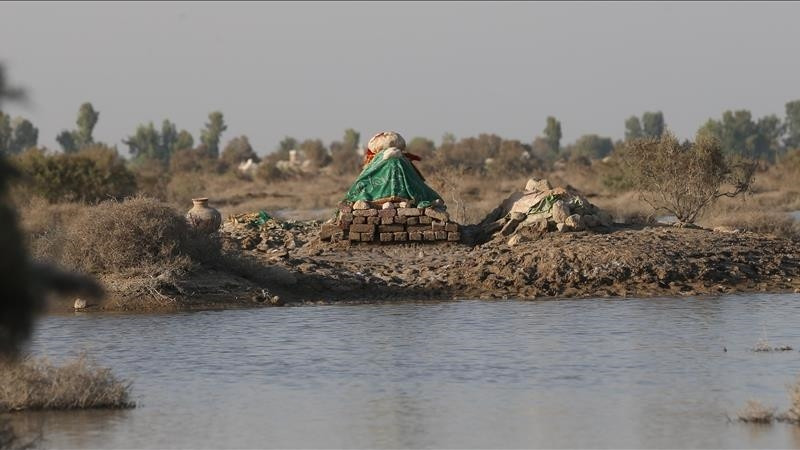 [ad_1]
Natural disasters negatively affected many countries this year, causing thousands of deaths and financial losses.
While some countries struggled with extreme heat, others were inundated by severe floods.
A total of 232 people died as a result of floods caused by heavy rains in Brazil, while at least 1,000 lost their lives in the 5.9 magnitude earthquake that struck Afghanistan's eastern province of Paktika.
In Pakistan, 1,739 people died and 13,000 people were injured in the floods caused by monsoon rains in about five months.
Jan. 15
Six people are killed due to the eruption of an underwater volcano and the ensuing tsunami that hit the Pacific island nation of Tonga. The volcanic eruption triggers tsunami warnings in Japan and Australia, while Peru closes 80 ports as waves tower and declares an "environmental emergency" days later due to pollution caused by oil spills on 21 beaches.
Also read: Three foreign NGOs suspend Afghan operations after Taliban ban on female staff
Jan. 30
More than 100,000 people are stranded without electricity due to a heavy snowstorm that hit the central and northeastern states on the US Atlantic coast.
Feb. 2
In Ecuador, 23 people lose their lives and 47 are injured in floods caused by heavy rains.
Feb. 3
Over 4,000 flights are canceled due to a snowstorm in the central US as 100,000 people face power outages.
Feb. 8
The Horn of Africa is hit with its worst drought since 1981, according to the World Food Program (WFP), which warned that approximately 13 million people face severe hunger.
Feb. 11
Etna, an active volcano towering 3,200 meters (10,500 feet) in Sicily, spews ash and lava for the first time in the year.
Feb. 16
Some 230 people die as a result of floods caused by heavy rains in the Brazilian state of Rio de Janeiro.
Feb. 19
More than 785,000 hectares (1.94 million acres) of land are destroyed in forest fires going on since mid-January in Argentina's northeastern province of Corrientes.
Hurricane Zeynep hits Germany and leads to the death of three people.
Feb. 21
Etna exhibits its second bout of volcanic activity this year.
March 8
Floods in Sydney, Australia cause the death of nearly 20 people since the beginning of March.
March 16
Three people lose their lives in an earthquake with a magnitude of 7.4 in the northeastern Tohoku region of Japan.
April 11
A total of 56 people die in the Philippines due to floods and landslides caused by tropical storm Megi.
May 1
Over 215 people are affected by an intense sandstorm in Iraq's northern province of Salah al-Din.
May 3
Scorching temperatures as high as 46 C (about 115 F) threaten education, farming, and energy supply in India, where 25 people die in the state of Maharashtra due to the worst heatwave in six years.
May 5
The US state of New Mexico is declared a "disaster zone" as fires spread over approximately 650 square kilometers (about 250 sq miles).
May 16
Due to the intense sandstorm, 2,000 people are hospitalized, according to the Iraqi government.
May 21
At least 57 people die in floods, landslides, and storms caused by heavy rains that affect India and Bangladesh.
May 29
Nearly 130 people die due to floods and landslides triggered by heavy rains in various parts of the Brazilian state of Pernambuco.
June 14
Over 1,700 people lose their lives and 13,000 are injured in floods caused by monsoon rains in about five months in Pakistan.
More than 2 million houses are damaged or destroyed, while various buildings must also be overhauled or rebuilt due to the floods caused by climate change. The cost of damage to Pakistan, which emits just 0.8% of global carbon emissions, is estimated to be over $30 billion.
Nearly 10 million people are displaced due to the disaster, according to the International Organization for Migration.
June 15
In Colombia, 80 people die and 10 disappear amid heavy rain and landslides throughout the country since the beginning of March.
With temperatures reaching 44 C in Spain, the "temperature record for the last 20 years in June" was broken.
June 21
At least 130 people lose their lives in floods, landslides, and accidents caused by monsoon rains in the states of Assam, Meghalaya, and Arunachal Pradesh in northeastern India.
Also read: Putin says Russia ready to negotiate over Ukraine
June 22
An earthquake of 5.9 magnitude claims some 1,000 lives in Afghanistan's Paktika province.
June 23
The death toll in the floods in Assam surpasses 100.
June 25
A total of 73 people die due to heavy rains in Bangladesh.
July 6
Over 15,650 people are hospitalized in Japan due to high temperatures.
July 20
A 10-day heatwave leads to the death of 678 people in Spain, while over 1,065 people die due to extreme heat in neighboring Portugal.
July 28
The number of forest fires in EU countries since the beginning of the year rises to nearly four times the bloc's 15-year average in the same period.
Aug. 11
At least 57,600 hectares of green areas in France are burned in fires since the beginning of the year.
Aug. 12
Water almost completely dries up in many parts of the Avon River, one of England's most important water sources.
Aug. 15
A flood triggered by heavy rainfall claims 31 lives over two days in the Karte Parwan region of Afghanistan's capital Kabul.
Aug. 21
A state of emergency is declared in Sudan due to floods that led to 79 deaths.
Aug. 22
The total volume of glaciers in the Swiss Alps has melted by half since 1931, accelerating in recent years due to climate change.
Amid drought, 10.4 million homes in France suffer various forms of damage, especially wall cracks.
Aug. 23
Experts of the Joint Research Center of the EU Commission reported that Europe was going through its driest period of the last 500 years.
Aug. 25
At least 182 people lose their lives over the span of a month in Afghanistan due to flood disasters in different provinces.
Sept. 3
France suffers the most fatal heatwave in the last 19 years this summer.
Sept. 24
Hit by Hurricane Fiona, Puerto Rico's power grid is knocked out for 588,000 people for about five days.
Sept. 28
Electricity is cut off in Cuba due to Hurricane Ian, while 2.5 million people in the nearby US state of Florida are ordered to evacuate as miles-long lines form on highways.
In the Philippines, 155 people lose their lives in disasters caused by Storm Nalgae in about six weeks.
Oct. 10
At least 25 people die in a landslide caused by heavy rainfall in the Aragua state of Venezuela, with 52 people going missing.
Over 20 people lose their lives due to heavy rains in northern India.
Oct. 25
Tropical Storm Sitrang claims the lives of 31 in Bangladesh as evacuation orders are issued for hundreds of thousands in the South Asian country's coastal areas.
Oct. 28
At least 50 people lose their lives in the Philippines due to Nalgae, the 16th tropical storm to hit the country this year, causing heavy rain, floods, and landslides in parts of the country.
Nov. 21
More than 320 people die in a 5.6 magnitude earthquake 18 km (about 11 mi) southwest of Ciranjang in Indonesia's province of West Java.
Also read: OIC condemns Taliban ban on women working for NGOs in Afghanistan
Dec. 5
A landslide on a highway in Colombia, results in a death toll of 27, while many others are left under the rubble.
Dec. 13
At least 100 people lose their lives in floods after heavy rainfall in Kinshasa, the capital of the Democratic Republic of Congo.

[ad_2]
Source link