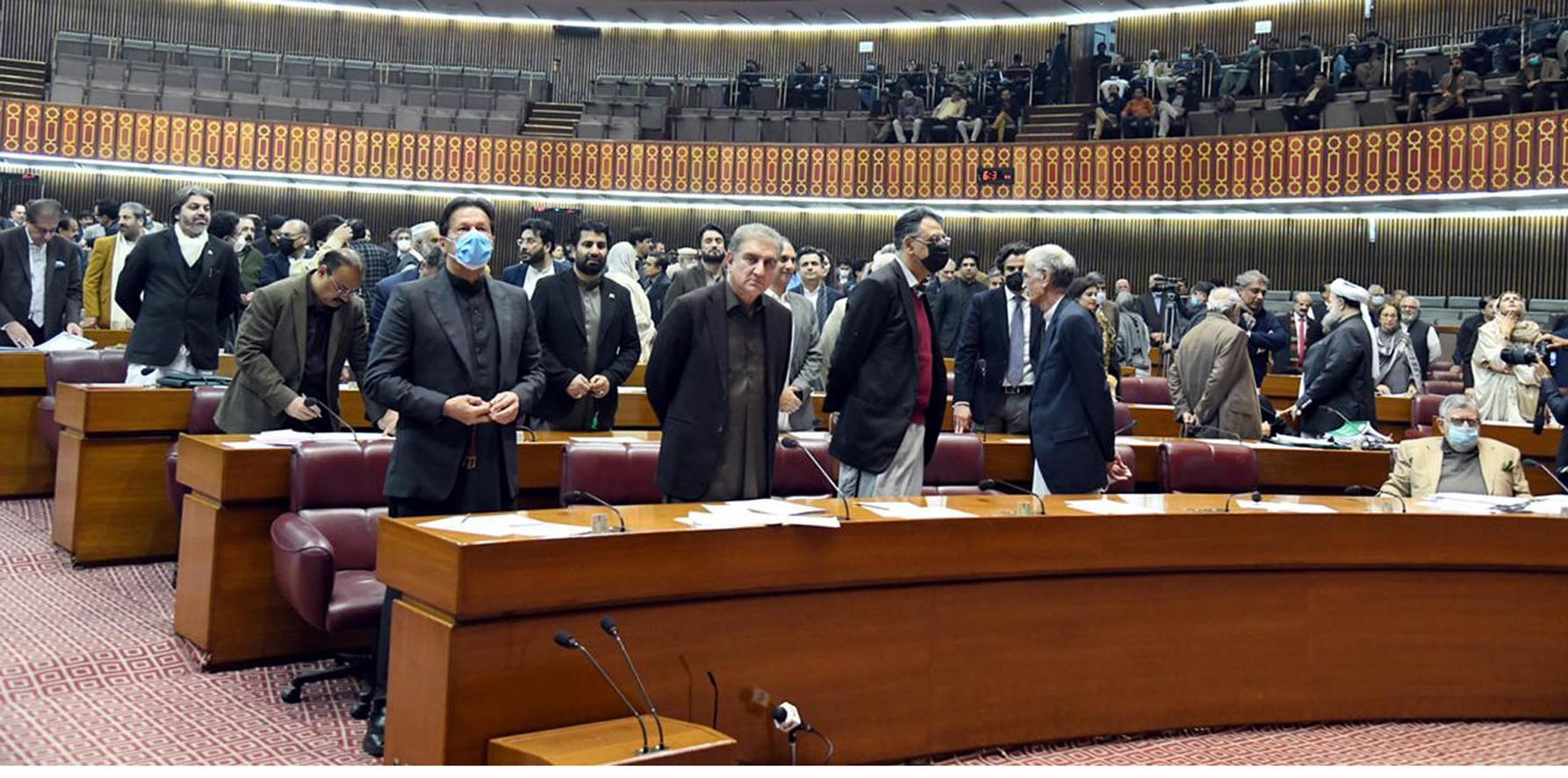 National Assembly Speaker Raja Pervaiz Ashraf has accepted the resignations of 11 Pakistan Tehreek-e-Insaf (PTI) parliamentarians, almost two months after 131 MNAs of the opposition party were summoned to verify if their resignations were "genuine and voluntary".
In an official statement issued on Thursday, the NA spokesperson said a notification of the resignations had been issued by the National Assembly Secretariat.
"The Speaker of the National Assembly accepted the resignation by exercising the powers conferred under Clause (1) of Article 64 of the Constitution of Pakistan," the statement added.
اسپیکر قومی اسمبلی @RPAPPP نے پی ٹی آئی کے 11 مستعفی ممبران قومی اسمبلی کے استعفے قبول کر لیے۔
قومی اسمبلی سیکرٹریٹ کی جانب سے استعفوں کے نوٹیفیکیشن جاری۔
اسپیکر قومی اسمبلی نے استعفے آئین پاکستان کی آرٹیکل 64 کی شق (1) کے تحت تفویص اختیارات کو بروئے کار لاتے ہوئے منظور کیے۔ https://t.co/oOOxPuqyyb
— National Assembly of Pakistan🇵🇰 (@NAofPakistan) July 28, 2022
The 131 PTI lawmakers had announced en masse resignations moments before Shehbaz Sharif was elected as the new prime minister on April 11 — a day after PTI chairman and former premier Imran Khan was voted out from the coveted slot through a no-confidence motion.
Also read: Question lingers over PTI MNAs' resignations
Those whose resignations have been accepted include Ali Muhammad Khan (NA-22), Fazal Muhammad Khan (NA-24), Shaukat Ali (NA-31), Fakhr Zaman Khan (NA-45), Farrukh Habib (NA-108), Ejaz Ahmad Shah (NA-118), Jameel Ahmad Khan (NA-237), Muhammad Akram Cheema (NA-239), Abdul Shakur Shaad (NA-246), Dr Meher Ansa Shireen Mazari (reserved seat), Shandana Gulzar Khan (allocated seat), as per the NA statement.
اسپیکر نےممبران قومی اسمبلی علی محمد خان(NA-22)، فضل محمد خان(NA-24)، شوکت علی(NA-31)،فخر زمان خان(NA-45)، فرخ حبیب(NA-108)، اعجاز احمد شاہ(NA-118)، جمیل احمد خان(NA-237)،محمد اکرم چیمہ(NA-239)، عبدل شکور شاد(NA-246)،ڈاکٹر مہر انساء شیریں مزاری،شندانہ گلزار خان کےاستعفے قبول کیے۔
— National Assembly of Pakistan🇵🇰 (@NAofPakistan) July 28, 2022
It added that the notifications of the resignations will be forwarded to the Election Commission of Pakistan (ECP) for further action.
The PTI leaders had said that their resignations were accepted by then NA deputy speaker Qasim Suri on April 14. Suri had made the decision in his capacity as the acting speaker.
However, the succeeding government made it clear that the resignations could not be considered valid unless they were verified.


Source link