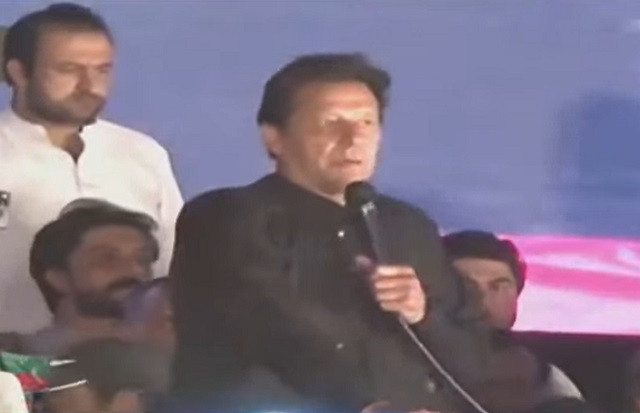 Days after his ouster from power, former prime minister Imran Khan has told a massive crowd in Peshawar that his party doesn't approve of the new government and the nation will never accept the bandits imposed upon them.
"Today, our nation is at a decisive point and we have to decide whether we want slavery or freedom from it," he said while addressing the first power show since his ouster from the premiership.
The ex-PM said he thanks the people of Peshawar for a mammoth welcome after his ouster, adding that he is also thankful to people of other parts of the country.
"[Prime Minister] Shehbaz Sharif is currently facing cases of Rs40 billion corruption," he said and asked, "how can we accept him as our prime minister."
https://www.facebook.com/ImranKhanOfficial/videos/556847829009731/?extid=CL-UNK-UNK-UNK-AN_GK0T-GK1C
He went on to add that "all others who think we will accept this regime should know that this isn't the 1970s."
The PTI chief also announced to take out rallies in every city and stage more power-shows.
At the stroke of midnight, Imran Khan was voted out from power through a vote of a no-confidence motion, becoming the first prime minister in the country's history to be unseated by a parliamentary revolt.
On April 3, the joint opposition's no-confidence motion, which required 172 votes in the 342-strong parliament to pass, was supported by 174 lawmakers, shaking the political earth of the country with an unprecedented ouster of the premier and seemingly bringing to an end the protracted crisis.
Also read: US, India call on Pakistan to take 'irreversible action' against terrorism
The Pakistan Tehreek-e-Insaf (PTI), which stayed in power for over three-and-a-half years, had been struggling to stay in power as its allies jumped ship and joined hands with the joint opposition that had been vying for an in-house change.
He added that the incumbent government's members were "all on bail", adding he will raise the nation against the "shameless rulers".
Imran, who is also the chairman of the Pakistan Tehreek-e-Insaf (PTI), said he will force the government to hold elections.
Also read: PM Imran says 'not anti-American', wants relations based on mutual respect
"We will remain on the streets until they accept this demand of ours," he declared.
The PTI chief asked judges to explain to him his fault as the doors of the court were opened for him at midnight.
"My honourable judges, what crime had I committed for the court to be set up against me at midnight," he questioned.
"I never instigated the public against the state's institutions or the judiciary as I am bound to live and die in Pakistan."
He added: "I went behind bars during the movement for the judiciary."
Also read: Will protest against PM Imran's 'civilian martial law': Shehbaz
"The struggle for freedom begins today," the former premier roared to a charged crowd as he told them he won't let their faith in him go to waste.
He warned PM Shehbaz about the "crackdown against social media users", adding, "You won't find a place to hide if I issue one call to my supporters."
Imran also said that the Pakistani nation didn't want a pardon from the United States, referring to his talks about the 'threatening letter' allegedly issued by the latter.
He went on to say that the Pakistani nation is now aware of everything and wouldn't accept an "imported" government at any cost.
According to him, Americans had "disrespected" Pakistan by imposing a bunch of "outlaws" on the nation.
He also asked security institutions if Pakistan's nuclear assets are going to remain safe under the incumbent government.


Source link