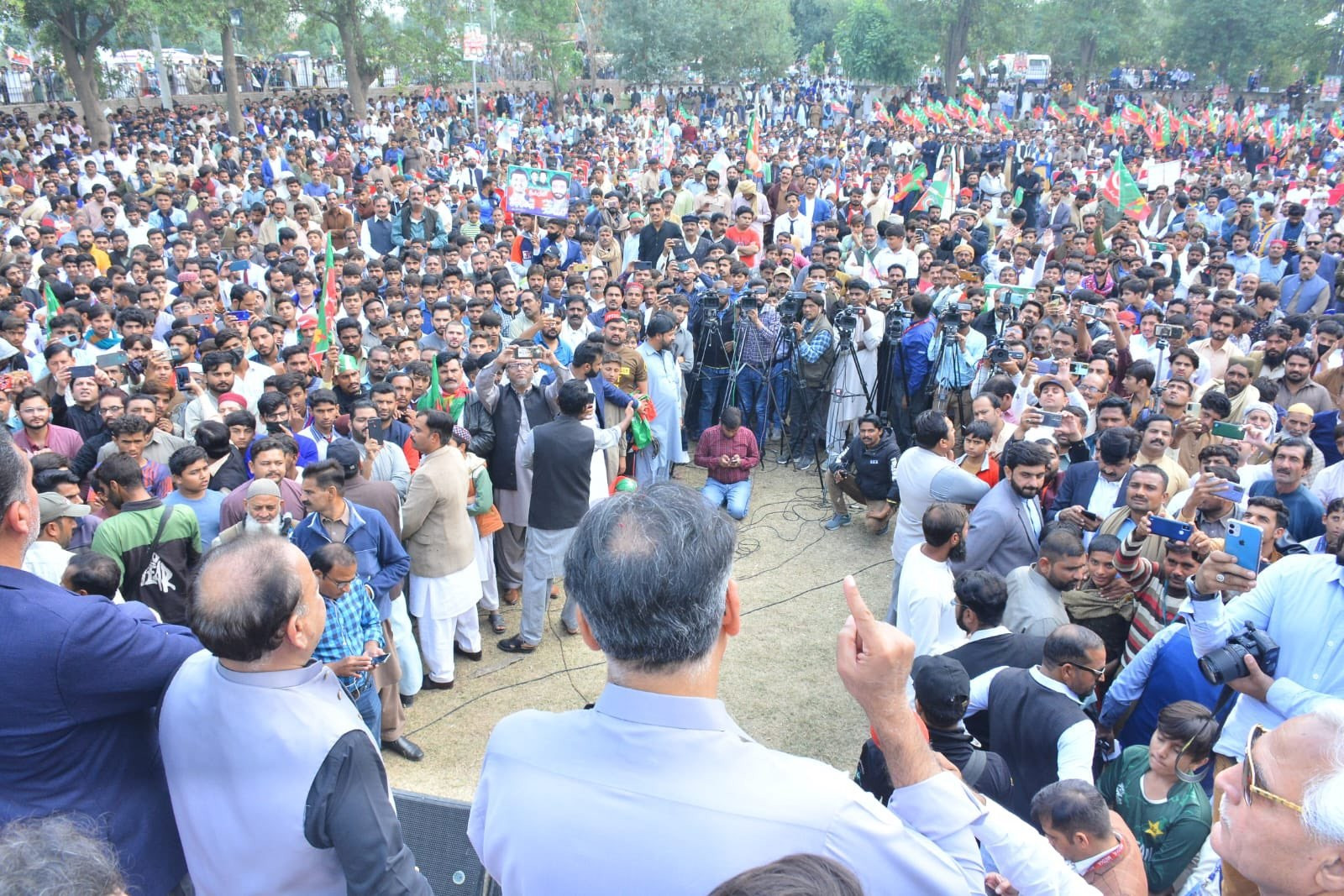 Pakistan Tehreek-e-Insaf (PTI) senior leader Asad Umar said on Monday that the nation was standing with former prime minister Imran Khan for its 'real freedom' because "important decisions are being taken in London".
"It has been 75 years since the British left, but even today major decisions related to Pakistan were being taken in London. This is why the nation has stood with its captain for its 'Haqeeri Azadi'," he said.
انگریز کو یہاں سے گئے 75 سال ہو گئے لیکن آج بھی پاکستان کے بڑے فیصلے لندن میں کرنے کی کوشش ہو رہی ہے. اسی لئے قوم اپنے کپتان کے ساتھ اپنی حقیقی آزادی کے لئے کھڑی ہو گئی ہے. #امپورٹڈ_فیصلے_نامنظور
— Asad Umar (@Asad_Umar) November 14, 2022
The PTI leaders's tweet came as the party resumed it's march towards federal capital. According to the party's official twitter handle, the march was to resume from Faisalabad's Chak Jhumra today at 9:30 pm.
"All patriotic Pakistanis are requested to join this movement for 'Haqeeqi Azadi','' the tweet stated, adding that the march will proceed towards its destination from Chak Jhumra, Jinnah Park in Faisalabad.
تمام محب وطن پاکستانیوں سے اپیل ہے کہ حقیقی آزادی کی اِس تحریک میں شامل ہوں۔ انشاءاللہ آج فیصل آباد چک جھمرہ، جناح پارک صبح 9:30 بجے مارچ اپنی منزل کی جانب بڑھے گی۔ @sahialiafzal #حقیقی_آزادی_مارچ #رُکنانہیں_جھُکنانہیں #آرہا_ہے_پاکستان pic.twitter.com/dEtha6R9jo
— PTI (@PTIofficial) November 14, 2022
Imran dedicates verse to Arshad Sharif
PTI chairman Imran Khan, in an early morning tweet, dedicated a verse to slain journalist Arshad Sharif, shot dead on the outskirts of Kenya's Nairobi city on October 23.
Read Don't want army chief of my choice: Imran
"This verse refers to human societies that remain neutral when faced with injustice & degradation of their moral values should not expect any blessings from the Almighty as He proclaimed in the Quran to 'enjoin the good and forbid evil'," the PTI chief said.
Imran added that he was dedicating the verse to the journalist who took a stand against injustice despite threats to his life.
I dedicate this to Arshad Sharif who took a stand against injustice despite threats to his life.
— Imran Khan (@ImranKhanPTI) November 14, 2022
March under Qureshi's leadership
Sharing today's plan for the march, PTI leader Musarrat Cheema shared that the march will resume from Mandi Bahauddin at 2:30 pm under the leadership of Shah Mehmood Qureshi, adding that the party's vice chairperson will address the workers at 4 pm, followed by the PTI chief's address that he will conduct via a video link at 4:15 pm.
2:30 بجے دوپہر کو منڈی بہاؤ الدین میں لانگ مارچ کا آغاز ہوگا اور سوا 4 بجے وائس چیئرمین اور ساڑھے 4 چئیرمین کا خطاب ہوگا. انشاءاللہ باقی شہروں کی طرح منڈی بہاؤ الدین کی عوام بھی حقیقی آزادی مارچ میں بھرپور شرکت کرے گی.
— Musarrat Cheema (@MusarratCheema) November 13, 2022