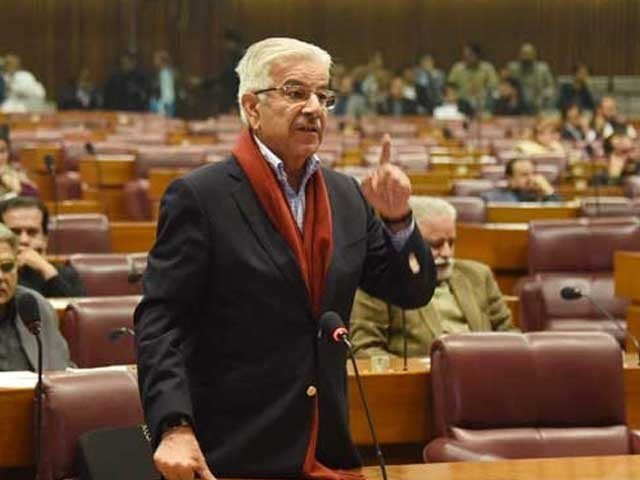 Defence Minister Khawaja Asif addressing the National Assembly (NA) on Friday said that blaming politicians and a senior military officer without proof for being involved in the attack on deposed premier Imran Khan was tantamount to "derailing" the matter.
The former prime minister sustained a bullet wound to his leg following an attack near his container, as he led the PTI's 'Haqeeqi Azadi March' in Wazirabad a day earlier.
One person died in the incident, while several members of the PTI chairman's close circle, including Senator Faisal Javaid, Ahmad Chattha and Imran Yousaf were injured.
Read US condemns attack on Imran, calls on all parties to 'refrain from violence'
Hours after the incident, former PTI federal minister Asad Umar said the PTI chief Imran Khan had named three suspects, who he believed were behind the gun attack. He named Prime Minister Shehbaz Sharif, Interior Minister Rana Sanaullah, and a military official as being involved in the assassination attempt against him, Umar said.
Addressing the NA today, Asif said that these claims were "diverting the incident into a direction where no criminal will be held responsible".
The defence minister also said that the government "should still not refrain from providing any kind of help that could prove useful in this matter" as he stressed that if the attack was given a political outlook it will become an inconclusive matter of history.
"Attempts are being made," he further claimed, "to achieve political objectives by sabotaging the entire incident".
"The federal government wants," the minister added, "that if there is any conspiracy behind yesterday's incident, then it should be brought forward."
The defence minister expressed fears that "if this issue is politicised" then there was a chance that the truth would not come out as "such matters have been buried in the past."
Khwaja Asif also said that "Imran Khan repeatedly said that he saw blood" ahead of his march on the capital and "today the attack on Imran Khan has taken place under the chief ministership of 'the dacoit of Punjab'"- a phrase Imran previously used to refer to Chief Minister Pervez Elahi before the two became political allies.
Read more Imran 'recovering fast' after assassination bid
"People have been killed," the minister exclaimed adding that "God saved Imran Khan and may He protect him."
Urging the formation of a joint investigation team (JIT) to probe into the incident, Asif also said that "instead of doing politics on the attack, the attackers should be pursued".
"They have turned the prime minister, Rana Sanaullah and an officer of the institution into attackers," he said, "while until the day before yesterday they were claiming they were in contact with the establishment".
"I condemn the use of this attack to malign an institution," said the minister.
The defence minister also claimed that Imran, time and again, has used "language" crossing the "red lines of religion" and alleged that "it is because of this reason that a man attacked him."
Referring to "the suspect's videos that have surfaced" on social media, the minister said that "it is evident from them that religious fanaticism is behind it."


Source link