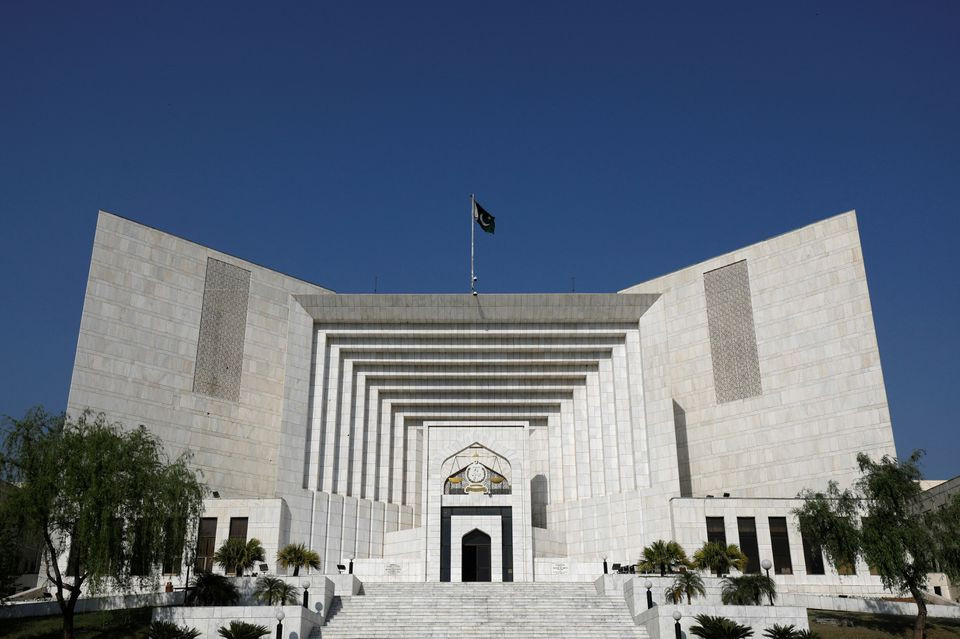 [ad_1]
A three-member special bench of the Supreme Court sought on Wednesday the details of the people who were acquitted or benefited from the National Accountability Ordinance (NAO) during the tenure of former prime minister Imran Khan.
During hearing of a petition filed by Imran Khan against the recent amendments to the NAO, the bench dispelled the impression that if the National Accountability Bureau (NAB) was abolished, the rule of law would end in the country, saying that there were other laws, which could deal with the crimes.
The bench, led by Chief Justice Umar Ata Bandial and comprising Justice Mansoor Ali Shah and Justice Ijazul Ahsan, heard the petition. Makhdoom Ali Khan, the lawyer of the federal government, pointed out that during the three-and-a half-year tenure of the PTI government five ordinances were issued to amend the NAB law.
The chief justice said that after the latest NAB amendments 386 cases were returned by the accountability courts. On that Makhdoom Ali Khan repeated Justice Ahsan's query that out of those 386 cases, how many were the parliament members.
Khan requested the bench that five NAB ordinances were promulgated by the PTI government therefore, the court should enquire how many NAB references were returned and people were acquitted in that period. He added that the court should also ask who among the accused were acquitted after those ordinances.
The federal government's lawyer told the court that the recent amendments to the NAB law were the continuation of the old law and requested the bench not to limit itself just to those 386 cases, which had been returned back to NAB.
The chief justice directed the lawyer to inform the court, which questions were to be put to NAB. Khan replied that NAB should tell the court that how many references were returned under the PTI-era ordinances; how many people were acquitted; and how many applications for acquittal were returned by the trial courts.
Sitting on the bench, Justice Ahsan raised the question, how could the recent amendments be applied from the past, especially after the convictions in NAB cases, adding that the recent amendments to the NAB Act had a broad amnesty. "It can't be that the NAB Act is amended and applied from 1985."
Justice Shah said that even if NAB was abolished, there were other laws to deal with the crimes. It would not be correct to say that those who were acquitted in NAB cases would go home, he added. Later, the hearing of the case was adjourned till January 19 (today).

[ad_2]
Source link