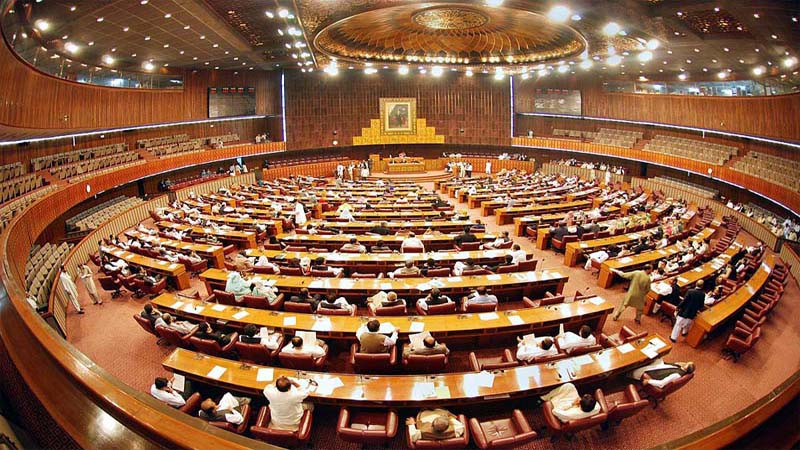 [ad_1]
The National Assembly unanimously passed the Criminal Laws (Amendment) Bill on Tuesday, aimed at increasing punishment for disrespect of Ummahatul Momineen, Ahl-e-Bait, Khulfa-e-Rashideen and Sahaba-e-Kiram.
The bill was piloted by Maulana Abdul Akbar Chitrali of the Jamaat-e-Islami. Moving the bill, Chitrali said that punishment for insulting a member of parliament was five years, but the punishment for disrespecting the pious personalities of Islam is mere three years.
The lower house of parliament met here with Deputy Speaker Zahid Durrani in the chair. During the session, Durrani expressed displeasure over the absence of several ministers. He also asked the National Assembly members (MNAs) to file their statements of assets with the Election Commission of Pakistan (ECP).
The house unanimously passed the Criminal Laws (Amendment) Bill. The statement of objectives of the bill said disrespecting the companion of the Holy Prophet (PBUH) and other sacred personalities not only promoted terrorism and disruption in the country but also hurt people from all walks of life.
In Section 298-A of the Pakistan Penal Code (PPC), the bill said, the punishment against the person who disrespected the wives, family and companions of the Holy Prophet (PBUH), was imprisonment for a minimum of three years along with a nominal penalty.
The bill enhances the minimum punishment for those who insulted the sacred personalities from three to 10 years along with a fine of Rs1 million. Chitrali said that in case of grave disrespect the punishment should be enhanced to life imprisonment.
"The punishment for insulting a member of parliament is five years, while the punishment for insulting the sacred personalities is three years. This is an insult in itself," Chitrali told the house. "May this bill be a cause of our salvation and may Allah grant our rulers the ability to implement the bill in letter and spirit."
Several other bills were also presented on the Private Members Day. Those included Pakistan Citizenship (Amendment) Bill, Federal Urdu University of Arts, Sciences and Technology (Amendment) Bill, National Skills University (Amendment) Bill, Institute of Space Technology (Amendment) Bill, COMSATS University (Amendment) Bill, Equal Scales of Salary and Allowances Bill and Legal Practitioners and Bar Councils (Amendment) Bill.
Speaking on a bill, Education Minister Rana Tanveer Hussain said that members were given sponsored bills. "We will have to sit together and introduce reforms to improve our education system," Hussain said. "The government is focused on training of the teachers to ensure quality education."
During the proceedings, Deputy Speaker Durrani expressed displeasure with the absence of ministers. Poverty Alleviation Minister Shazia Marri said that the ECP had suspended the membership of many ministers for not submitting their returns.
Durrani noted that 136 MNAs had not filed their returns with the ECP. He asked the members to submit the returns with the ECP so that they could join the assembly proceedings. Later the session was adjourned until 11 am Friday.

[ad_2]
Source link