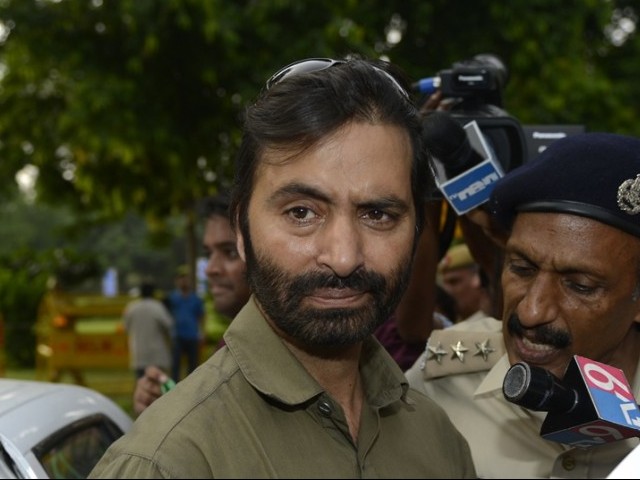 Mushaal Mullick, wife of imprisoned Kashmiri leader and Jammu and Kashmir Liberation Front (JKLF) Chairman, Yasin Malik, has urged the United Nations to form a "commission on inquiry" to investigate the conviction of her husband, saying the judges and lawyers of the Indian courts were the "representatives" of the Hindu nationalist group Rashtriya Swayamsevak Sangh (RSS).
Last month, an Indian court jailed Yasin for life over several charges, including "terror funding", triggering street protests outside his residence and condemnation from the Kashmiris diaspora worldwide.
Mushaal had termed Yasin's sentencing by a "kangaroo court" as illegitimate, stressing that the "iconic leader will never surrender".
The prosecutors had demanded of the court to award death penalty to Malik but a special judge instead sentenced him to life under a section of the Unlawful Activities Prevention Act. The court said that Malik "did not want any trial and therefore, he was ready to plead guilty".
A former student activist from humble roots, Yasin led one of the first groups of the Kashmiri fighters. He was first arrested in 1990 by Indian forces and spent several years in different jails since. He said he was tortured for years in various Indian detention centres.
Read OIC expresses concerns over life sentence to Yasin Malik
Yasin led hundreds of armed fighters until 1994 when he renounced violence to campaign peacefully for the liberation of Kashmir. He has since campaigned for Kashmir's right to self-determination as chairman of the JKLF.
In 2019, Indian Premier Narendra Modi's government had declared JKLF an "unlawful association", the year when New Delhi split the Indian Illegally Occupied Jammu and Kashmir (IIOJK) after abrogating the constitutional clauses that granted special status to the region.
Addressing a function organised by the Islamabad High Court Bar Association (IHCBA) on Wednesday, Mushaal while referring to her husband said that the leader of a peaceful movement was declared a terrorist.
She recalled that once South African anti-apartheid revolutionary leader Nelson Mandela was also labelled a terrorist but was later awarded a Nobel Prize.
Mushaal said her husband was kept deprived of his right to speak and was not allowed to meet his family. The Kashmiri leader was handed down sentence virtually, she said, adding that when he started speaking (in the court), his was voice was muted.
She regretted that the Indian judiciary did not give Kashmiris their rights, saying Yasin's media trial had begun before a verdict on his case was announced, and questioned on what evidence was he convicted.
Yasin said he would not "beg the court" when he was asked about reduction in his sentence, Mushaal said.
"India always committed judicial murders of Kashmiri leaders. Kashmiri youth were massacred after Yasin Malik's conviction," she added.
"India is violating the United Nations resolution and the Geneva Convention," she added.
Mushaal urged the United Nations to form a "commission of inquiry" to probe the conviction of Yasin and the atrocities committed by India against Kashmiris.


Source link