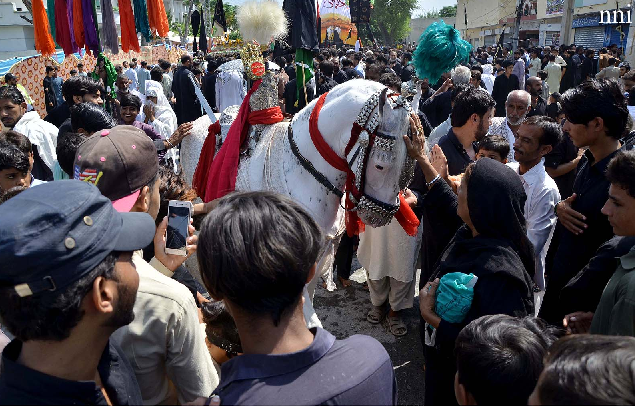 The Muharramul Haram crescent has not been sighted and Youm-e-Ashur will be observed on August 9 (Tuesday), the Central Ruet-e-Hilal Committee announced on Friday.
The first of Muharram – which is also the first day of Hijri year 1444, according to the Islamic calendar – will commence on Sunday (July 31).
The announcement was made following a meeting for the moon sighting, chaired by Ruet-e-Hilal Committee Chairman Maulana Muhammad Abdul Khabir Azad.
Read more: Muharram moon sighted, Ashura on August 19
The provincial and district moon sighting committees also held their meetings simultaneously today at their respective headquarters.
Muharram is the month of mourning for the seventh-century martyrdom of Hazrat Imam Hussain, the grandson of Prophet Muhammad (PBUH).
Security is beefed up across the country for the many processions taken out by the believers.
The country has seen a raft of attacks at imambargahs and processions in the past.
Covid SOPs
On July 22, the government issued new coronavirus guidelines to be observed during the Majalis in the month of Muharram.
According to the standard operating procedures (SOPs) issued by the National Command and Operation Centre (NCOC), the wearing of mask and use of sanitisers have been made mandatory during the Muharram Majalis and processions.
The NCOC said that only vaccinated people would attend the Majalis, which would be held in open and spacious places with adequate ventilation arrangements. It further said that social distancing during congregations and processions would also be mandatory.
The forum said that people aged above 65 years and children must listen to Majlis from homes. According to the NCOC, it was necessary to implement the SOPs in order to prevent coronavirus spread during Muharram.


Source link