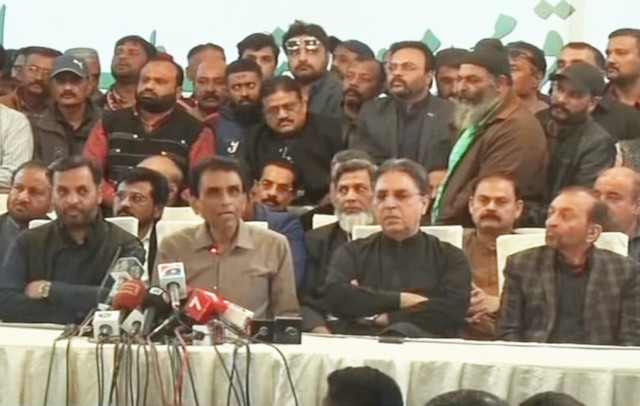 [ad_1]
The Muttahida Qaumi Movement-Pakistan (MQM-P) has said that "very low" voter turnout in the local body polls has shown that people of Karachi and Hyderabad have rejected the "illegitimate" elections.
"Very low voters' turnout has proved that local body elections were illegal, hence the people of Karachi and Hyderabad have rejected this attempt at pre-poll rigging," MQM-P Convener Khalid Maqbool Siddiqui told reporters on Sunday.
He was addressing the press conference along with other party leaders, including Farooq Sattar, Mustafa Kamal, and others at party's Bahadurabad headquarters in Karachi.
"No one will accept these local body elections as they have no legal status and the people have rejected this conspiracy to snatch their rights," he added.
Siddiqui said that the majority of the voters did not turn up at the polling stations "which is a referendum in favour of the MQM's boycott".
In a late night development on Saturday, the MQM-P announced boycotting the local government elections in Karachi, Hyderabad, and Thatta divisions held on Sunday (today).
Also read: MQM-P boycotts LG elections in Sindh
"Our reservations over the delimitation of local government constituencies have not been addressed despite several assurances from the provincial government," Siddiqui had announced while addressing a news conference after attending a major huddle at the party's Bahadurabad headquarter.
Elaborating on his reservations regarding delimitations, Siddiqui in today's presser said Sindh and federal governments have also accepted their stance that 73 union councils were not formed during the biased delimitations of the local body constituencies
"Now we will take decisions on streets not in Houses, he remarked.
Speaking on the occasion, MQM-P leader Farooq Sattar said newly-elected local government representatives will not get public support.
"Karachi has been deprived of basic 70 seats which is equal to one separate city," he added.
Terming the local body polls "rigged," Sattar said Jamaat-e-Islami, PTI, TLP and all others participating in the election showed that they did not give importance to the 73 UCs.

[ad_2]
Source link