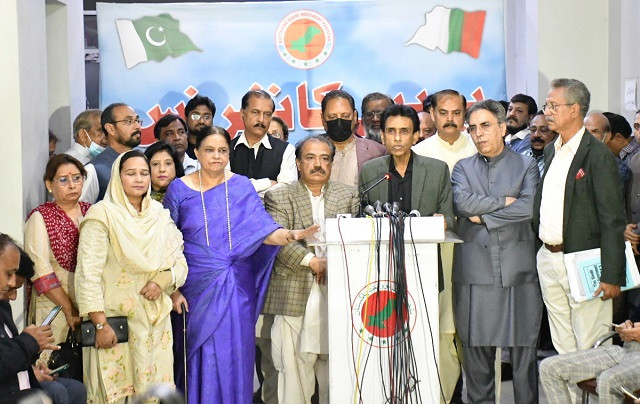 An Anti-Terrorism Court (ATC) has acquitted MQM leaders in three cases involving alleged facilitation of a provocative speech by the London-based founder of their party.
Special ATC No. 1 on Wednesday accepted the acquittal pleas filed by the MQM leaders, including Dr. Farooq Sattar, Waseem Akhtar, Khawaja Izharul Hasan, Aamir Khan, Rauf Siddiqui, and Qamar Mansoor and exonerated them of the charges.
According to police, the cases were registered against the accused in Malir City, Sachal and Brigade police stations on charges of facilitating the MQM founder's provocative speech.
In a video statement, MQM leader Rauf Siddiqui said that he is thankful to God for the acquittal. As many as 23 FIRs were registered against the MQM leadership in different police stations of the city in one night, he said. They were tried for six years in cases that involved charges of "clapping" to the MQM founder's speech.
Also read: Hard to dupe politically aware people of Karachi: MQM-P
Siddiqui stressed that court cases should not be registered "on demand". "The entire MQM leadership was named in the cases. "The MQM leaders were put on trial and sent to jail in the baseless cases," he added. "But thank God, today we have been acquitted."
Separately, the Sindh High Court (SHC) has sought replies from the Sindh police chief, Anti-Corruption Department, NAB, and others in response to a petition related to an ongoing inquiry against MQM leader Babar Ghouri.
While hearing Ghauri's petition, a two-member bench, headed by Justice KK Agha, expressed displeasure over the "incomplete response" submitted by the police and other agencies. The IG Sindh will be summoned if a comprehensive response from the police stations of the entire Sindh is not submitted, the court remarked.
The bench remarked: "There is one IG office in the entire province, then why answers are being submitted from separate police stations? Tell this to IG Sindh."
To this, the Special Public Prosecutor, Deputy Attorney General and Assistant Prosecutor General Sindh sought time from the court for submitting a reply. The court ordered the IG Sindh, the provincial Anti-Corruption Department, NAB, and others to submit their replies on December 15.
The petitioner's lawyer argues that details of any ongoing secret investigation against his client should be sought. Babar Ghouri has obtained a protective bail from the SHC in a NAB reference and a money laundering case. He was arrested on July 7, 2022 at Karachi airport upon his return from abroad.


Source link