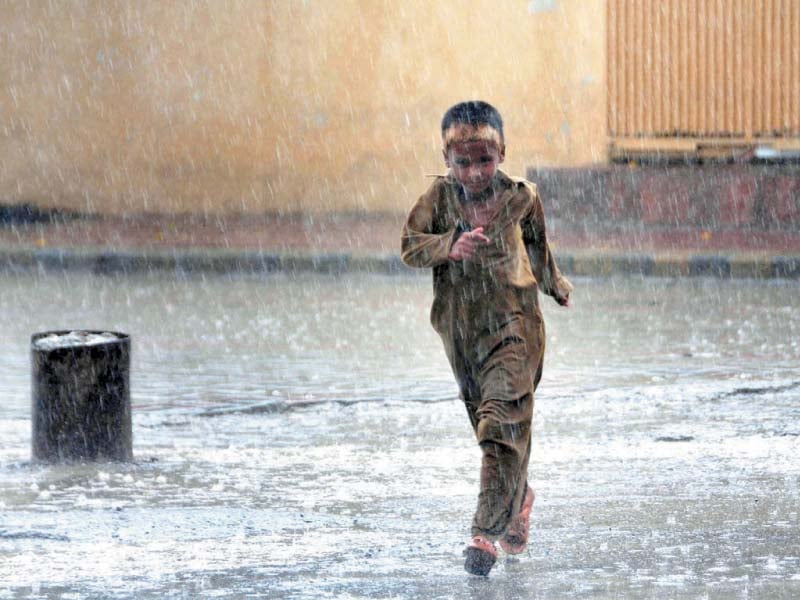 More rainfall is expected in the upper regions of the country, as predicted by the Meteorological Department on Saturday.
According to Express News, Azad Kashmir, Gilgit-Baltistan, Islamabad, Rawalpindi, Murree and Chakwal are expected to receive rain with thunder from tonight till Tuesday.
Moreover, according to the Meteorological Department's prediction, Attock, Jhelum, Sialkot, Narowal, Lahore and Gujranwala will also receive rain with thunder.
Read: Fresh flood swamps what previous deluge spared
Apart from that, several parts of Khyber Pakhtunkhwa also have a rain forecast for Sunday and Monday, including Dir, Kohistan, Abbottabad, Mansehra and Haripur.
This comes in light of a 30-year record of monsoon breaking this year, which killed over 1,100 people, left thousands injured and millions displaced.
K-P told to take pre-emptive measures
Rainfall in K-P areas is expected to continue intermittently till Wednesday, the met department said.
In light of the prediction and the current dire situation of the province, the Provincial Disaster Management Authority (PDMA) has issued a letter to the district administration, asking them to take pre-emptive measures.
The director general of the PDMA has instructed authorities to ensure the availability of small as well as heavy earth-moving machinery in cases of land sliding.
Furthermore, there was also fear of urban flooding in some areas as well as an increase in flow of storm water drains due to the rains.
The DG PDMA has reportedly cautioned tourists, directing them to take precautionary measures while travelling. He further stated that the emergency operation centre was also fully functional now.
Flood losses
The economic losses are estimated at Rs2.5 trillion or over $11 billion, sources told Express Tribune.
Prime Minister Shehbaz Sharif said that the recent floods caused more damage than the 2010 calamity. Due to the 2010 super floods, the economic growth rate had slowed down by 2% and the economic losses had been estimated at $9.7 billion.
The floods have also caused supply chain-related issues and the Ministry of Finance has estimated that the inflation rate may soar to 26%, compared to the budget target of 11.5%.