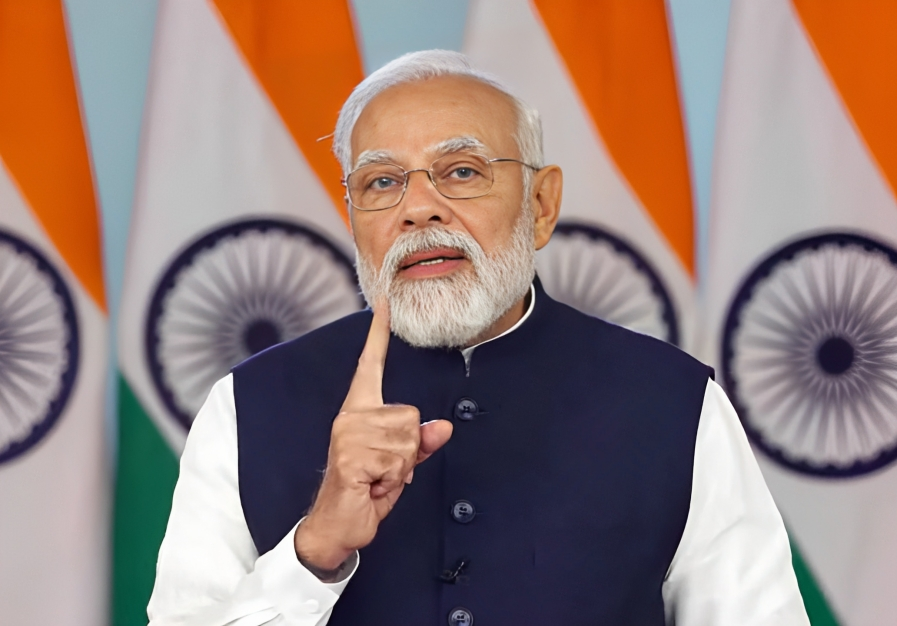 Indian Prime Minister Narendra Modi heads to Papua New Guinea and Australia on Sunday as New Delhi seeks to counter mounting Chinese influence in both the Indian and Pacific oceans.
Western nations regularly refer to the wider region as the Indo-Pacific, but New Delhi has been left far behind by Beijing's efforts in recent years to woo the small island states that dot the vast expanses of water with trade and aid.
Several Pacific island states have switched their diplomatic recognition from Taipei to Beijing in recent decades, and before the coronavirus pandemic enjoyed economic boosts from Chinese tourists.
At the same time, as part of its Belt and Road Initiative, Beijing has negotiated infrastructure deals with countries around the Indian Ocean including Sri Lanka, the Maldives, Bangladesh, and Djibouti, sometimes accompanied by military agreements.
New Delhi sees the area as its backyard, and Beijing's activities have alarmed Indian officials.
In Port Moresby, Modi will co-host the Summit of the Forum for India–Pacific Islands Cooperation with PNG Prime Minister James Marape, before going on to Australia, a fellow member of the Quad — an alliance set up as a bulwark against China's growing assertiveness under President Xi Jinping.
Also read: India's Congress gains key foothold with state polls win
"China has taken over South China Sea," said navy veteran and former Indian navy spokesperson DK Sharma, describing the strategically vital waterway as a "global common" that had to be treated and respected as such.
"Today or tomorrow, the enemy is the same. Either you prepare now or react later," he told AFP. "India's visit to the islands is one of the last opportunities we have.
"One cannot deny the fact the power we are all mustering strength against is too superior to be handled by any single one of us. Best way is to collaborate and have like minded-defence procedures."
Xi visited PNG in 2018, and Beijing struck a controversial security deal with Solomon Islands last year that sent shockwaves across the region when a leaked draft included measures that would allow Chinese naval deployments to the Pacific nation, less than 2,000 kilometres (1,200 miles) from Australia.
Modi will travel to Australia for meetings with Prime Minister Anthony Albanese and business leaders, just two months after the Australian visited India.
India overtook China as the world's most populous nation in April, according to UN estimates, and the Asian giants are the world's second- and fifth-biggest economies.
But their relations are fraught with tensions over territory and trade — 20 Indian troops died in clashes with Chinese soldiers in 2020 on their disputed Himalayan frontier.
Since then, worried about China's build-up on the other side, Modi's government has pumped billions of dollars into connectivity projects on its side of the border to boost civilian presence, and establish new paramilitary battalions.
It is also seeking to develop closer ties with Western countries including Quad members the United States, Japan, and Australia, which are themselves wooing it as an alternative to China.
Modi will travel to PNG from Japan, where he is expected to participate in a Quad meeting taking place alongside a G7 summit.
But his government has something of a diplomatic tightrope to walk between India's increased security cooperation with Western countries and its reliance on Russia for defence and oil imports.
As well as being part of the Quad, India is a member of the Shanghai Cooperation Organisation, which includes both Russia and China, and currently holds its rotating presidency.
New Delhi and Moscow have been allies for decades, with Russia by far India's biggest arms supplier, and the Asian country has never condemned the invasion of Ukraine, calling instead for an end to hostilities, to the frustration of Western diplomats.
India is also this year's G20 president, and meetings of that grouping have failed to agree on joint common statements on the war.


Source link