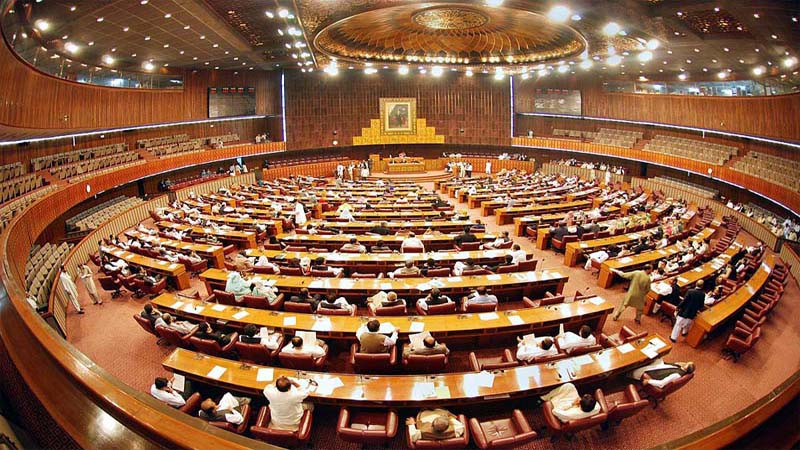 [ad_1]
Treasury and opposition members of the National Assembly (MNAs) criticised the government on Wednesday, particularly the key financial managers, for the prevailing economic situation in the country and urged businessmen to increase liaison with the elected representatives of the people for resolution of their issues.
Speaking at a function at the Karachi Chamber of Commerce and Industry (KCCI), the MNAs, including Qaiser Sheikh of the Pakistan Muslim League-Nawaz, Ramesh Kumar Vakwani of the Pakistan Tehreek-e-Insaf (PTI), Dr Nafeesa Shah of the Pakistan Peoples Party (PPP) and Dr Fehmida Mirza of the Grand Democratic Alliance (GDA), criticised Finance Minister Ishaq Dar.
Qaiser Sheikh, also the chairman of the National Assembly Standing Committee on Finance, said that the State Bank of Pakistan (SBP) was also involved in "dollarisation" along with banks. He added that the SBP governor "must reveal the earnings of the banks during the last three and a half months.
He said that he had been the chairman of the finance committee for the past six months but he had not been able to meet the finance minister so far. "Aren't we the elected public representatives that Ishaq Dar doesn't even meet us?" he said.
Sheikh held three people responsible for the current situation – the finance minister, the chairman of the Federal Board of Revenue (FBR) and the SBP governor. He added that the government only listened to a few people, adding that the finance committee only presented its proposals.
Giving his personal example, he said that in the current situation, there was the need for the elected representatives to work on a voluntary basis. He said that he had been an MNA since 1997 and he never drew salary or other perks.
Sheikh told the gathering that the business community tried to solve their issues by meeting the minister but had failed. He urged them to share their issues "with us and we will work together to resolve them". The standing committee, he added, would resolve the problems of the people.
Vakwani said that Dar had not attended even a meeting of the standing committee. "It is not known whether Ishaq Dar meets the prime minister or not. Former National Assembly Speaker Fahmida Mirza said that there was a need for reforms in the parliamentary system.
MNA Nafisa Shah said that domestic foreign exchange reserves had come down to a very low level but emphasised that the political structure could not be held responsible for it. She added that "If all decisions were taken by elected representatives, the conditions of the country and economy would have been different."

[ad_2]
Source link