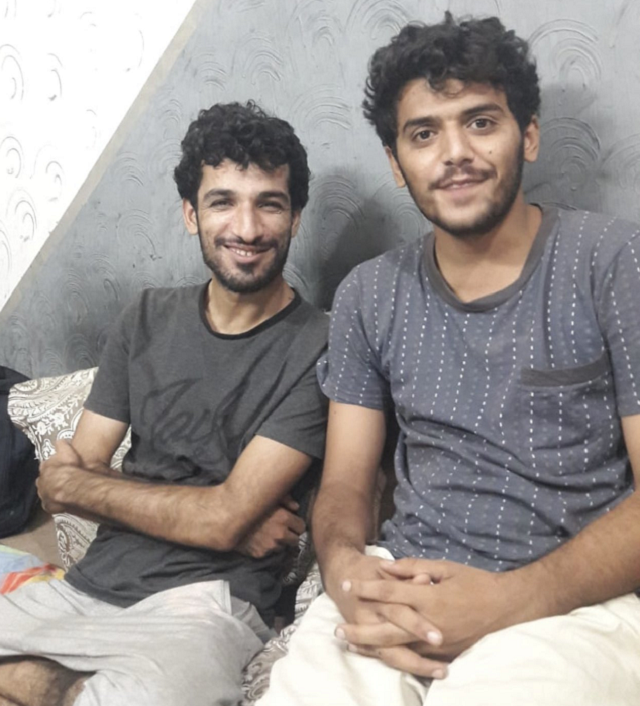 Doda Ellahi and Ghamshad Baloch – missing Baloch students of Karachi University who were allegedly whisked away from their house earlier this month, returned home 'safely' on Tuesday.
The students belonging to Kech district of Balochistan went missing on June 7 and returned to their home in Karachi's Gulshan-e-Iqbal area earlier in the day amid widespread outcry over their alleged abduction.
The siblings of Doda also confirmed in a tweet that their brother has been released "safely".
My brother Doda along his friend Gamshsd has been safely released. I am really grate-ful to all those who supported us in this difficult time.
I might not be able to mention all of you here who stood with us, but you'll all forever live on our hearts.@VeengasJ pic.twitter.com/TCP1lpJKIY
— Shayhaq Ellahi (@shayhaq_ellahi) June 14, 2022
Breaking , Doda Elahi and Ghamshad recovered and reached home. Thanks for All who supported and take action against abduction of Doda Elahi and Ghamshad Baloch .
— HudaHair Ellahi (@HudaHair_Ellahi) June 13, 2022
Development comes a day after the Karachi police manhandled and arrested 28 protesters, including women, who were staging a sit-in outside the Sindh Assembly against the alleged abduction of the two missing students.
Strongly condemn #Sindh Police's heavy-handedness & inhuman act of violence against innocent & peaceful #Baloch women and students, protesting against #EnforcedDisappearnces of Baloch.
GoS must investigate, such acts have already created immense distress amongst the Baloch. https://t.co/LWMfkKzfSu
— Sana Ullah BALOCH, MPA (@Senator_Baloch) June 13, 2022
Law enforcement's heavy-handed approach to seemingly peaceful protesters sparked outrage on social media with people demanding action against the police officials.
Meanwhile, Climate Minister Sherry Rehman in a tweet has said that inquiry committee is formed by the Sindh government to probe "into the disproportionate and unseemly use of force against women protesters in Karachi outside the Press Club".
Inquiry ordered into the disproportionate and unseemly use of force against women protesters in Karachi outside the Press Club. Thank u @BBhuttoZardari pic.twitter.com/NRUWMleyFC
— SenatorSherryRehman (@sherryrehman) June 14, 2022
Reacting to the arrest and release of the Baloch protesters, Sindh Information Minister Sharjeel Inam Memon took to Twitter saying, "It's requested for everyone that kindly avoid violation of law so that law in orders may be ensured."
There was a protest in Red Zone by some baloch protestors. Police arrested some protestors in violating section 144. However They we're released after seeking security bond. It's requested for everyone that kindly avoid violation of law so that law in orders may be ensured.
— Sharjeel Inam Memon (@sharjeelinam) June 13, 2022