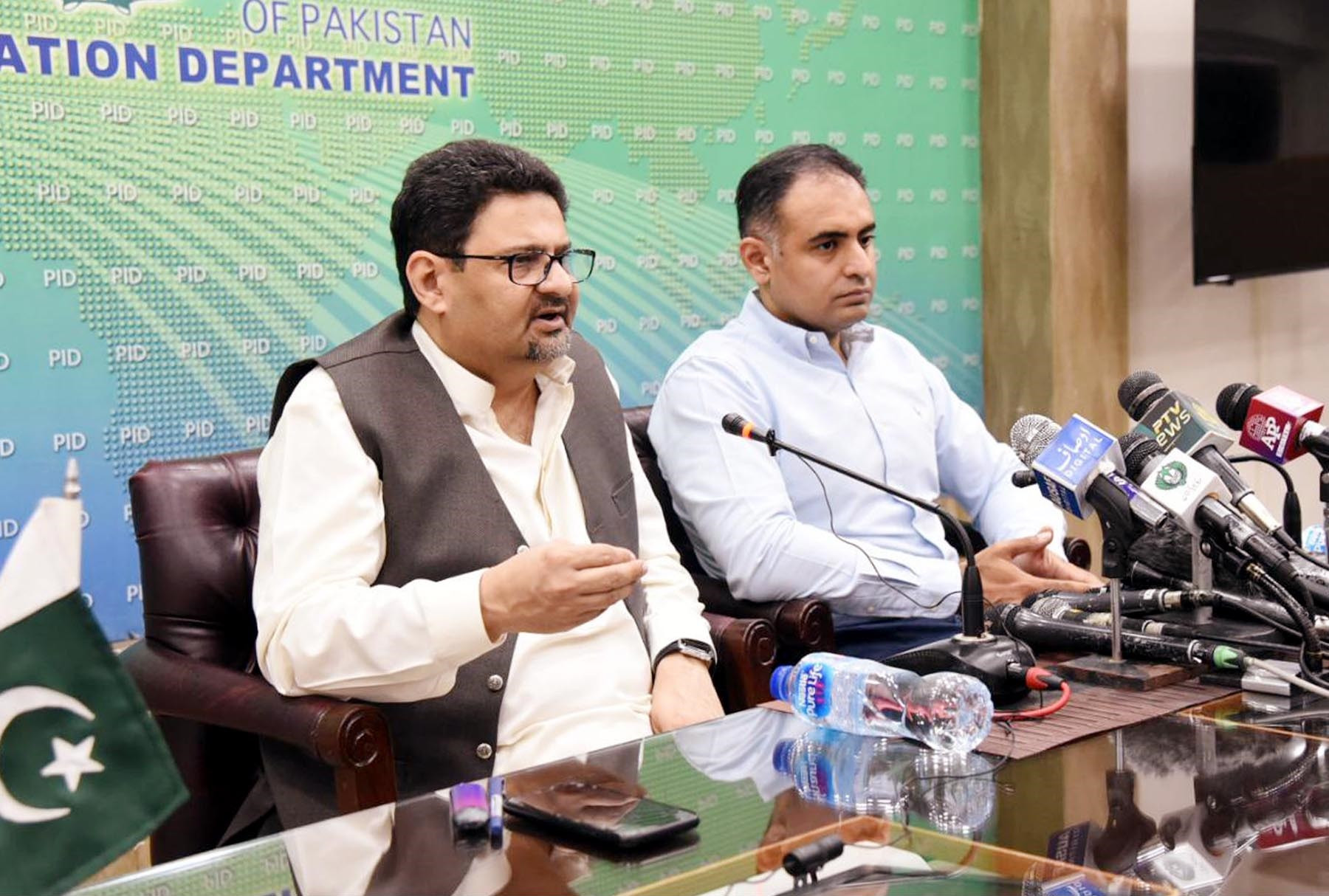 Finance Minister Miftah Ismail on Sunday said that the country's currency, which has dropped to Rs250 against the US dollar in the open market, will improve in the coming two weeks.
Pegging hope on the government's efforts to reduce imports while addressing a press conference in Islamabad, the minister said that "with the daily rise in incoming dollars and a decline in outgoing units, there will be a surplus" of US dollars in the country.
LIVE #APPNews : Finance Minister @MiftahIsmail along with Coordinator to PM on Economy and Energy @BilalAKayani addressing news conference #Islamabad https://t.co/nHyA6Lm1Wg
— APP 🇵🇰 (@appcsocialmedia) July 31, 2022
The minister informed journalists that Pakistan had managed to reduce imports by $2.7 billion between June and July and with the Economic Coordination Committee (ECC) approval secured, the ban on imports may soon be lifted after Prime Minister Shehbaz Sharif and his cabinet's approval.
Our efforts to reduce imports have finally borne fruit. Imports in July, per FBR data, were only $5.0b compared to $7.7b in June. Given that we have pulled Pakistan back from the brink of default, our govt is determined to minimise the large current account deficit left by PTI.
— Miftah Ismail (@MiftahIsmail) July 31, 2022
If the ban is lifted, "most items" will be affected, barring "vehicles, mobile phones and home appliances", said Ismail; adding that "for some time" the ban on the latter categories would continue.
Responding to a question, Ismail admitted that "after the August 17 [Punjab by-] polls, the dollar has gone out of control and appreciated", but added that he "truly believed" in the "true value of the rupee" being "far greater than this".
Read: Pressure on rupee to ease after IMF deal
The rupee came under pressure because the government had lost "a billion and another billion" in payments last month, he explained before adding that the government's plan of action was to "increase exports" in the coming months. "But the big issue of impending default has been resolved," he said.
"We plan to give Pakistan a healthy economy. We are determined to minimise the current account deficit and turn it into surplus within a year or so," he added.
Responding to another question during the conference, Ismail said that: "My number one priority has never been to control inflation or to bring growth. My priority has only been to save Pakistan from default," – a goal the minister claimed to have achieved earlier this week too, as an increase in the inflow of foreign currency is expected in the next quarter.
The finance minister remained cautious in his optimism, however. Speaking candidly, he admitted "nobody can predict the market" and that while he believed the "fundamentals are in our favour, but speculations and sentiments also play a role".
'You are responsible, Khan Sahab'
Lambasting the previous Pakistan Tehreek-e-Insaf (PTI) government, Ismail said that "in four years, the PTI could not reach the tax-GDP ratio of the PML-N government. We had left it at 11.1 per cent and the PTI took it to nine per cent."
The minister also said that the PTI government had sold petrol and oil at a loss all the while violating the agreement it had itself negotiated with the International Monetary Fund (IMF).
"Afterwards, he [Imran] said what harm can a little money laundering do? What harm can breaking the [IMF] agreement do? What difference does it make if the country defaults a little? It makes a difference Khan sahab."
Read More: Rupee fall: Imran, Miftah trade barbs
Continuing his criticism, the minister also said that "Imran Khan used to say he would increase tax [collection] but he reduced it every year" and that the PTI government's policy of imposing indirect taxes had put pressure on the incumbent government to impose direct taxes in a "difficult budget".
Miftah Ismail also placed the onus of increases in circular debt on Imran's government, adding that it had more than doubled from $1.1 billion to $2.5 billion.
"They did not work on any area. They just kept appearing on the media, on Twitter and making false statements," retorted the minister. "Now they ask who is responsible? You are responsible Khan sahib," he claimed.


Source link