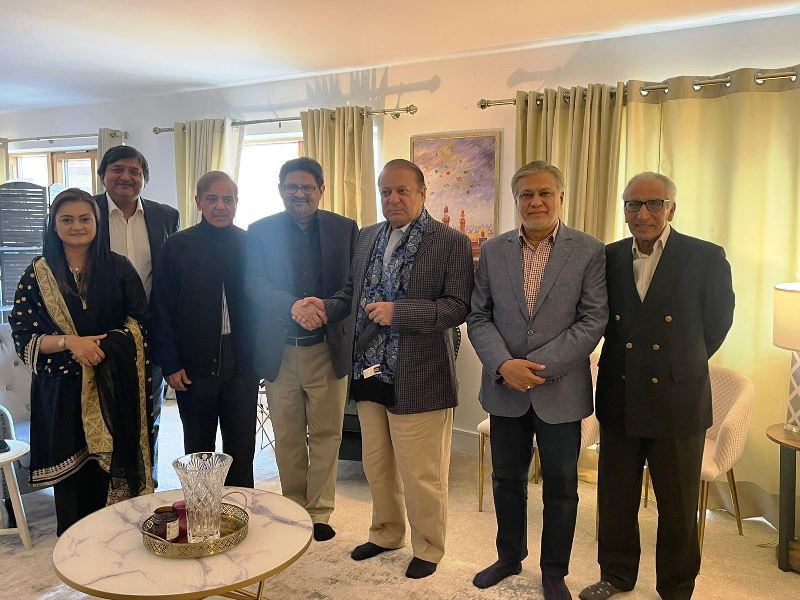 Finance Minister Miftah Ismail has stepped down from his post as senior PML-N leader Ishaq Dar is all set to become the country's new financial czar.
The development came after an important party meeting held under the chairmanship of Pakistan Muslim League-Nawaz (PML-N) supremo and former prime minister Nawaz Sharif in London on Sunday.
Premier Shehbaz Sharif, Information Minister Marriyum Aurangzeb, outgoing finance minister Miftah Ismail and other party leaders including Ishaq Dar and Malik Muhammad Ahmad Khan also attended the huddle.
Also read: Dar set to become financial czar – again
In the meeting, the overall political situation of the country was discussed in detail.
Miftah submitted his resignation to the PML-N supreme leader, saying the ministry was entrusted by the party.
"I worked to the best of my ability for four months, and remained loyal to the party and the country," the PML-N statement quoted Miftah as saying during the meeting.
Read more: Dar gets physician's NOC to fly to Pakistan
Nawaz Sharif appreciated the efforts made by Miftah for carrying out the responsibilities under the "tough economic challenges".
During the huddle, PM Shehbaz and party supremo Nawaz nominated Dar as the new finance minister of the country.
The participants of the meeting were of the view that the incumbent government had to "put out the fire of economic disaster" caused by the previous PTI-led regime.
(This is a breaking story. More details will follow shortly. Please refresh the page for the updated version)