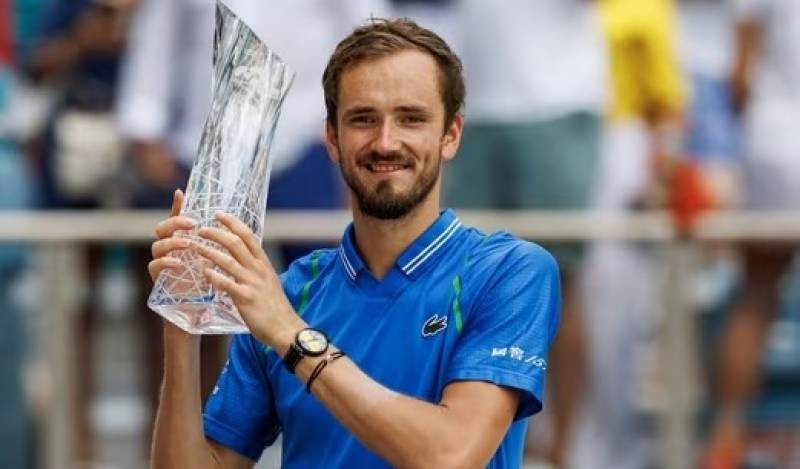 Russian Daniil Medvedev claimed his fourth ATP title of the year with an emphatic victory over Italy's Jannik Sinner in the final of the Miami Open on Sunday.
Sinner had upset world number one and defending champion Carlos Alcaraz in Friday's semi-final, but the 21-year-old struggled in the heat against the fourth seed Medvedev, who triumphed 7-5, 6-3.
The win was Medvedev's 19th career ATP title and his fifth in a Masters 1000 event and confirmed his dominance on hard courts in 2023.
Sinner, also beaten in the Miami final two years ago and now with a 0-6 record against the Russian, said he had not been at 100%.
"We woke up this morning not at my best, I felt a little bit sick….unfortunately today I couldn't play at my best," said the Italian who, however said there had been no question of him pulling out of the contest.
"No, it was not that bad. But, you know, with the heat, when you run a lot, it gets a little bit worse and worse. Obviously the first half an hour we played in the sun also," he said.
Medvedev, who had already won three titles in three weeks at Rotterdam, Doha and Dubai before losing to Alcaraz in the Indian Wells final, started confidently, holding serve to love while Sinner's first service game was a real battle.
Sinner had to save a break point and fought through a 26-shot rally before coming through at the end of a 10-minute game.
In contrast, Medvedev again served to love but Sinner was showing signs of settling as he held his serve and then the Italian broke Medvedev to go 3-2 up, with a deft touch volley.
Medvedev immediately broke back, however, with Sinner's effort clipping the net and going out and after the Russian held again, the Italian had attention from the ATP trainer.
Sinner, looking uncomfortable in the bright sunshine, took a pill along with a powder in his water in the 87 F (30.5 C) heat.
Medvedev, looking composed and confident, grabbed the first set when Sinner was serving at 6-5 down and the Italian's poor shot into the net handed the Russian the crucial break.
Medvedev quickly got ahead in the second set when Sinner sent a forehand long but just as quickly handed the break back to Sinner.
But Sinner was making too many errors and when Medvedev broke again to go 3-1 up, the Italian was unable to turn things around and the world number five completed his first ever win in Miami.
"I'm really happy. Today was a tough match. It was probably the hottest day and the most humid during the day," Medvedev said.
"It was not easy conditions. I don't know if Jannik had a small injury or cramp. I was also struggling, tried not to show it," he added.
Medvedev's 19 ATP Tour wins have come at 19 different events, but he had not won a Masters 1000 event since Toronto in 2021.
"I haven't won't such a big title in probably a year and a half. At the end I was quite shaky," he said.
"Not even tight, because I'm not scared to win. But still the hands get a little shaky so the serve is a little bit tougher… I managed to get myself together and close the match."
The 27-year-old has now won five of the six hard-court ATP Masters 1000s and has also reached the final at both hard-court Grand Slams, winning the 2021 US Open.
Now he must turn his attention to the clay courts where he has had much less success.
"I love hard courts, If it would be my choice there would be only hard courts," he joked.


Source link