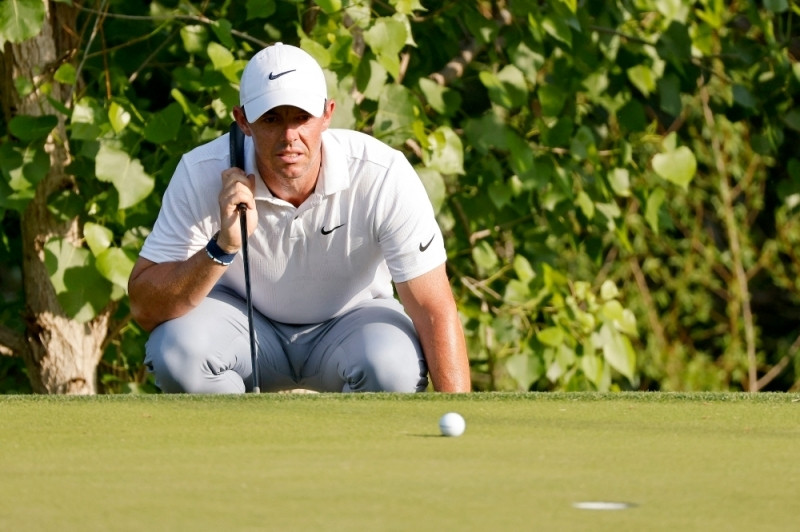 Rory McIlroy delivered an epic tee shot and some clutch putts with new equipment in his final Masters tuneup, boosting hopes of a victory to complete a career Grand Slam.
World number two McIlroy, a four-time major champion, only needs a green jacket to join Tiger Woods, Jack Nicklaus, Gary Player, Ben Hogan and Gene Sarazen with a triumph at every major tournament.
"My game's in really good shape," McIlroy said. "Just keep it ticking over and work on the shots I need for Augusta National and away we go."
The 33-year-old from Northern Ireland has not won a major title since the 2014 PGA Championship, but produced his best major showing since then with a solo second behind Scottie Scheffler last year at Augusta National, the best of his four top-10 major finishes in 2022.
McIlroy earned bragging rights over Scheffler last week by beating him in the third-place match at the WGC Match Play Championship, completing a strong week of shotmaking.
"It was something to really build on going into Augusta," McIlroy said. "Really bullish on where my game is, especially knowing what's around the corner."
After missing the cut at The Players Championship, McIlroy tested a new driver and putter at the Match Play with an eye on Thursday's start of the 87th Masters.
"For the first week out I thought both ends of the bag, the driver and the putter, worked pretty well," McIlroy said.
"The driver's definitely better. I thought the putter looked pretty good for the most part. I felt like I progressed with the putter as the week went on.
"All in all I thought most aspects of the game were in good shape."
A prime example was a jaw-dropping drive McIlroy struck at the 375-yard, par-4 18th hole that landed within four feet of the hole.
"The drive on 18 was great and the length and the accuracy and whatever, it was a good shot, but there was a few more shots out there that pleased me more.
That tee shot got all the headlines and the attention, but there's other parts of the game that I'm a lot more pleased with and happy with that are a little more translatable as the year goes on."
McIlroy didn't like a driving accuracy rate near 50% so he changed his driver.
"I went to a slightly softer shaft, and it's actually really helped. I feel like I can hit a few more shots with it," McIlroy said. "Feel a bit more comfortable playability-wise."
Outdueling Scheffler at the Match Play gave McIlroy confidence for a possible Sunday showdown at the Masters.
"If we're both playing this well, fast forward to a couple weeks' time, it's probably not bad preparation," McIlroy said.
"More likely than not one of us is probably going to be in contention going into that final round… this is incredibly helpful."
McIlroy has been among the players working closely upon changes to the PGA Tour structure to create more big-money events with top stars, answering the challenge from the upstart LIV Golf series but saying the work hampered his on-course performance.
"It's fair," he said. "I'd love to get back to being a golfer. It has been a busy sort of six or eight months. The wheels have been put in motion, so it should obviously quieten down.
"It's just the time management. It's more the time at home to make sure you're getting prepared… That's where I've maybe sacrificed a little bit of time with some of this other stuff."