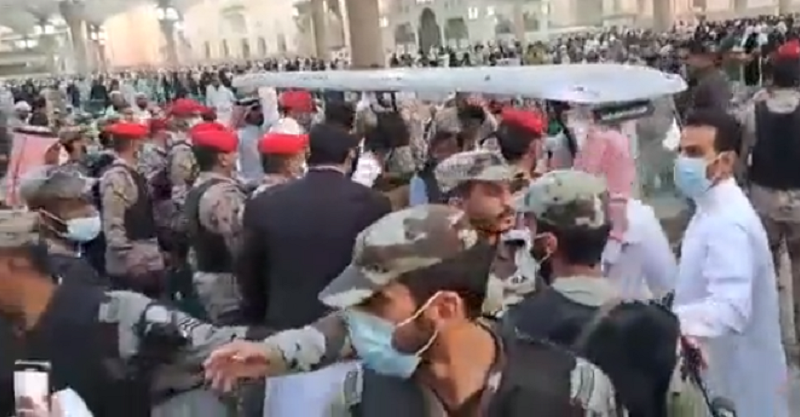 Saudi Crown Prince Mohammad bin Salman on Wednesday ordered the release of all Pakistanis who were imprisoned "disrespecting" Masjid-e-Nabwi (PBUH) following a request by Prime Minister Shehbaz Sharif during his visit to the kingdom.
In April, premier Shehbaz, federal ministers and parliamentarians were confronted and heckled at the Masjid-e-Nabwi (PBUH) in Madina during their visit, as Pakistani pilgrims chanted slogans of "chor" (thieves) at the group.
The delegation consisting of Bilawal Bhutto-Zardari, Miftah Ismail, Shahzain Bugti, Marriyum Aurangzeb, Khawaja Asif, Chaudhry Salik Hussain, Dr Khalid Maqbool Siddiqui and Mohsin Dawar, had arrived in Saudi Arabia at the invitation of the crown prince.
Read more: Pakistani pilgrims held for 'disrespecting' Masjid-e-Nabwi
As officials went to the holy site to offer prayers, they were provoked by a mob chanting slogans against the new regime. Later, at least six Pakistani nationals were convicted of violating the sanctity of the Masjid-e-Nabawi (PBUH).
Quoting its diplomatic sources, a private TV channel said that a court in Madina awarded a 10-year jail term each to Anas, Irshad, Muhammad Saleem, while an 8-year jail term each to Khawaja Luqman, Muhammad Afzal and Ghulam Muhammad. The convicts were also fined Saudi Riyal 20,000 each.
According to Express News, the prime minister expressed his gratitude to Mohammad bin Salman and said that may Allah reward him following the release orders.
Also read: Six jailed in Madina for sloganeering during PM's visit
Meanwhile, PM Shehbaz also visited Masjid-e-Nabawi (PBUH) and paid respect at the Roza-e-Rasool (SAWW). He offered Nawafil in the mosque and visited the graves of the martyrs of the Battle of Uhud.
Later, the premier left for home after concluding his two-day visit to Saudi Arabia.


Source link