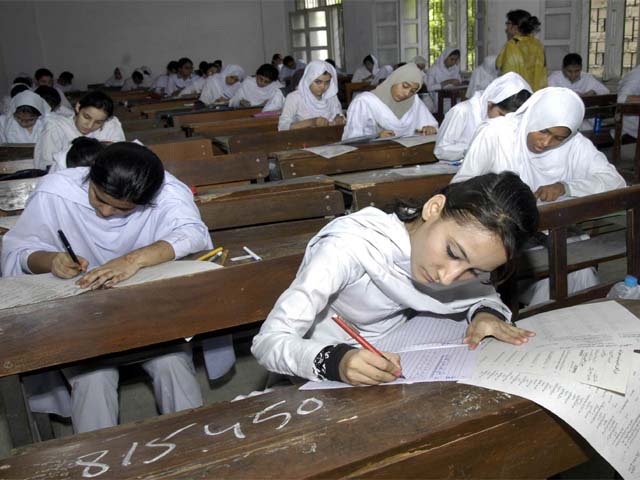 The nationwide committee of chairmen of the educational boards decided on Thursday to conduct matric and intermediate exams in April and May this year, respectively and approved the introduction of the new grading system across the country over the next three years.
Inter Board Committee of Chairmen (IBCC) Secretary Ghulam Ali Malah told The Express Tribune that the existing grading system at the inter [grade XII] and matric [grade X] levels was being abolished and replaced by a 10-point system across the country by 2025.
Also read: New grading system for matric, inter
The IBCC met in Lahore. The meeting was informed that examinations in various grades in Sindh would start immediately after Eidul Fitr. The meeting chaired by Secretary Universities and Boards Mureed Rahimo, was also informed that Sindh to start matric exams on April 27 and inter exams on May 15.
The meeting also approved the implementation of the new "10-point grading system" at the matric and inter levels across the country, Malah said. He added that the implementation of the new system would be started from the next exams.
Under the new grading system, Malah explained, the minimum passing marks had been increased from 33 to 40, while the term "F" or "Fail" would be removed from the student's examination remarks and in its place a new term "U" means unsatisfactory would be introduced.
The new grades are "A++" or "Exceptional" for students securing 95-100% marks; "A+" or "Outstanding" for 90-95% marks; "A" or "Remarkable" for 85-90% marks; "B++" or "Excellent" for 80-85% marks; "B+" or "Very Good" for 75-80% marks; "B" or "Good" for 70-75% marks; "C" or "Fair" for 60-70% marks; "D" or "Satisfactory" for 50-60% marks; "E" or "Sufficient" for 40-50% marks.
The IBCC secretary said that the passing marks at the university level was 40% or even 50% at some places, while the passing marks in aptitude test were also 50. "Hence, it has been decided to increase the passing marks to harmonise these exam results with the universities," he added.


Source link