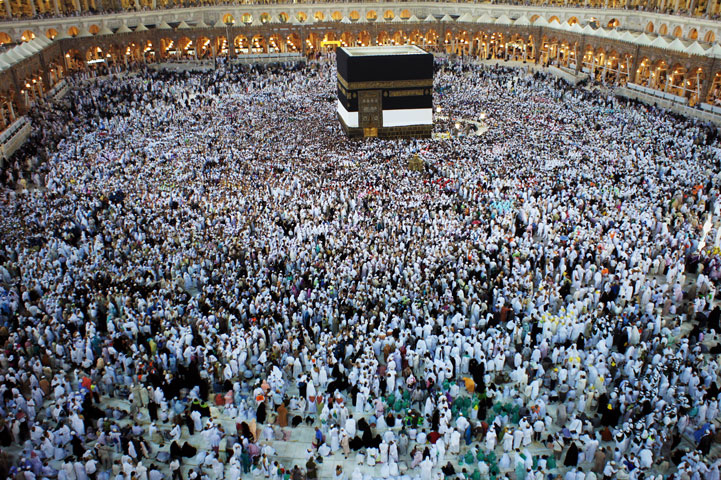 Saudi Press Attaché Dr Naif Alotaibi said on Sunday that a viral video clip of Masjid-e-Haram on social media became the centre of attention of the Muslim Ummah around the world.
Alotaibi shared the one-hour bird's-eye view video clip of Masjid-e-Haram, Makkah, on his Twitter handle, stating that it was recorded half an hour before and after the Maghrib prayer.
مکہ میں مسجد حرام کا ایک کلپ
اس کا دورانیہ ایک گھنٹہ ہے جسے مغرب کی نماز سے آدھا گھنٹہ پہلے اور نماز کے آدھے گھنٹے بعد ریکارڈ کیا گیا (اسے مختصر کرکے ایک منٹ میں سمو دیا گیا)۔
سبحان اللہ ❤️ pic.twitter.com/YUV7wIy1Y0
— Dr. Naif Alotaibi (@Dr_Naif777) April 1, 2023
The one-hour video was shortened to one minute, which provides an eye-catching view for the viewers, according to Dr Naif. He also shared another video clip in which a policeman helped a young child tie the Ahram in the Mataf area of Masjid-e-Haram properly.
مسجد الحرام میں سعودی پولیس اہلکار ایک بچے کو احرام باندھنے میں مدد کر رہا ہے۔ ❤️ pic.twitter.com/JZGwuVm221
— Dr. Naif Alotaibi (@Dr_Naif777) March 19, 2023
Dr Naif paid tribute to the policemen deputed in Masjid-e-Haram and elsewhere in Saudi Arabia, stating that they always tried their best to help the pilgrims through all possible means.
He also mentioned that religious tourists were being extended all-out support during their holy journey in the Kingdom of Saudi Arabia under the dynamic and visionary leadership of Saudi Crown Prince Muhammad bin Salman and Custodian of the Haramain Sharifain King Salman bin Abdulaziz Al-Saud.
As per royal instructions, pilgrims were being provided with all possible modern-day facilities to spend a memorable time with ease and comfort in the holy land, Dr Naif added.


Source link