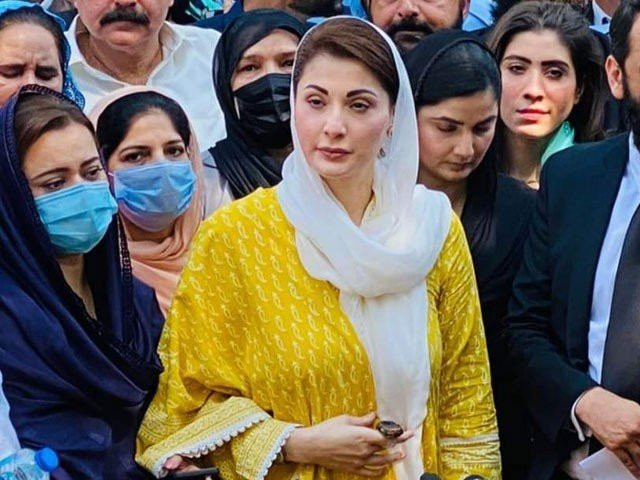 Bringing the internal rift to the fore, Pakistan Muslim League-Nawaz (PML-N) Vice President Maryam Nawaz said even our opponents recognise the power of PML-N and Nawaz Sharif's narrative of vote and delivery but those within do not acknowledge our strength, adding that "some in our party are afraid of us while we are afraid of them".
Maryam was addressing Punjab's last divisional meeting at Central Party Secretariat in Faisalabad on Thursday.
This was not the first time a PML-N leader had referenced a tug of war within the party, but each time party spokespersons came out with a new analogy of the tussle in a bid to give a different meaning than what would be perceived on face value.
She stated that internally people started questioning what PML-N can do against rigging while our opponents, viewing the large rallies and voter outcome, were concerned with the PML-N trajectory. She said that there was a thin line between victory and defeat.
Read Govt, PML-N bicker over UK court verdict
"If you all refuse to bow down before tyranny and refuse to surrender to thuggery, there will be no stopping PML-N from securing a resounding victory in the next elections," she told the workers.
Talking about the former chief justice of Pakistan, Saqib Nisar, she said that nobody remembers the one who had taken the premiership from Nawaz. "Wherever he goes, he has to hide his face because people do not even want to shake hands with him," she claimed.
The party VC stated that those who had claimed that Nawaz's politics was over, they have to resort to foul play to win against him even today.
She further said that despite winning general elections by rigging, they lost the later elections to PML-N. She added that those who used to accuse PML-N of robbery, today courts were giving adverse remarks against their own rule.
Maryam stated that their party leaders were asked to answer for three of their generations while there is one party that is not even disclosing what gifts it has received from foreign countries. She said that if naming who gifted what is the sole problem, then just tell what gift they have received, leaving aside the names.
Towards the end of the address, according to the statement issued by the PML-N, she praised PML-N President Shehbaz Sharif for working day and night for the people of Punjab and acknowledged his untiring efforts in combating the dengue virus.
Moreover, addressing the gathering, Nawaz recalled how he had refused to sign a request for dissolution of the assembly immediately after the 1999 coup against his government.
He said that he had told the three generals that came to him to offer a free passage by signing a letter that they will get what they want 'over my dead body'.
The former prime minister said that they stayed for half an hour and started by requesting but ended with hurling threats. He added that later he was taken to Karachi where after a short court proceeding he was given a 27-year prison term that they tried to convert into capital punishment.
Read PML-N holds another meeting sans Shehbaz
Nawaz further recalled that he was taken to a dirty cell where he slept in a cloud of dust. He said that a gun was put to his head and asked how dare he gave the charge of COAS to a new general.
The PML-N leader talked of the sacrifices made by PML-N and reminded of the development made on all fronts, including defence, during his tenure. He said that why should we fight with our military while questioning why any PM has not returned home safe and sound. "We are those who love their army," he stated.
Nawaz said that we were not a dead nation that can be herded around like sheep. He added that lobbies were active in America to impose sanctions on Pakistan. He asked why did no one ask for a receipt from Papa John's? "Why are all the hardships for elected leaders?" he lamented.


Source link