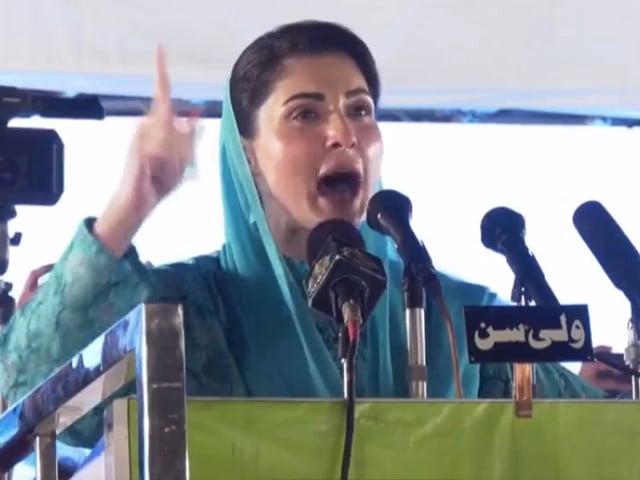 A day after PTI Chairman Imran Khan dialed up claims of attempts on his life, PML-N Vice-President Maryam Nawaz on Sunday refused to accept the former premier's words on the alleged assassination plot, mocking his "frenzied tactics" after the "letter-gate" narrative died down.
In the same breath, however, Maryam "assured" Imran that a security cover would be provided to him once the purported video evidence was brought to the fore. In the meantime, she asked Interior Minister Rana Sanaullah to find the video.
"We don't want you to die, we want you to live to see Nawaz Sharif's progress," she said while addressing party supporters gathered in Gujrat's Kotla area on Sunday.
On Sunday, Imran Khan dropped the bombshell claiming his life was in danger and that he has recorded a video in which he has taken the names of all those who "conspired against me" since last summer. "I knew of this conspiracy … so I have recorded a video and kept it in a secure place. If something happens to me then this video will be made public in front of the nation. I have named every conspirator in it," he said.
Responding to the startling claims, Maryam, while maintaining that she would never wish death even on her worst enemies, cast aspersions on Imran's claims and asked him to release the video immediately so that appropriate measures could be taken.
"As his Lettergate theory failed, he resorted to a new narrative, saying his life is in danger," she added.
The PML-N leader accused the former premier of resorting to such tactics to avoid presenting a report card to the people over his performance. It is simply because, she added, he has no performance to put before the masses.
"Nawaz Sharif, whom you had subjected to suffering and anguish during incarceration, will show you what a man of high stature he is by offering you adequate security, even if a shred of reality is found to your claims" she guaranteed.
The PML-N leader said she has come across a video of Imran Khan in which he made the claims that there was a medicine that could cause slow poisoning if mixed with food. "Imran Khan eats the food that's prepared in his own home so even if someone tries that [slow poisoning], it would be someone from his own home."
Lashing out at Imran, she recalled that Nawaz Sharif was never allowed to eat home-cooked food during imprisonment, claiming "something" dropped in his food had triggered a sudden life-threatening drop in his platelets.
Comparing Imran to a "spoiled child", Maryam said, "He [Imran] has been raising a hue and cry nowadays for being ousted from power," adding that his "game is over".
'We won't take blame'
Hitting back at the former ruling party's sharp criticism of the flagging economy, Maryam said if he wanted to put the blame for his four-year lack of performance on the incumbent government, "we won't let that happen".
In fact, by doing so, she added, Imran Khan is presenting a charge sheet against himself.
"A person who is responsible for the sharp rise in the dollar and inflation was tweeting about the increase in rupee-dollar parity and spike in the costs of essential commodities," she said.
She scoffed at the PTI chairman's "newfound" obsession with conscience, asking why the "callings of conscience were not answered when the US dollar shot up from 105 to 190 and when the price of wheat went from Rs35 per kg to Rs80".
"We will not let Imran Khan scapegoat the PML-N government for his failures. Should people question a party that has ruled for four years or the government that has thus far ruled for just over four weeks?" she asked.
Maryam also mocked the PTI chief for saying he had blocked the cellphone numbers of those representing the establishment, saying: "I am certain that they have blocked your mobile number and you are now the wrong number in the eyes of the masses."
Talking about the PTI's foremost demand of holding early elections, she said: "Now elections will be held when our leader [Nawaz Sharif] will let us know from London."
"If he is so desperate for a fresh election, why didn't he go for it before the no-confidence motion was tabled? And when it was tabled, he pandered to his allies and his MNAs to seek their support."
'Lies of conspiracy'
Addressing the massive rally, Hamza Shehbaz said, "If Imran is let loose with his rant, he will undermine Pakistan's peace."
The Punjab chief minister opined that the deposed premier deprived people of their jobs and is now bringing a bad name to the country with his unfounded claims of a 'foreign conspiracy.
On the occasion, Hamza – son of Prime Minister Shehbaz Sharif – vowed to bring down prices of commodities in the province, especially those of edible items.
Hamza vowed to bring immense progress to Kotla, build roads as well as upgrade the educational status of the area.
According to the party's Twitter handle, Hamza also visited the Aziz Bhatti Teaching Hospital soon after he arrived in Gujrat.


Source link