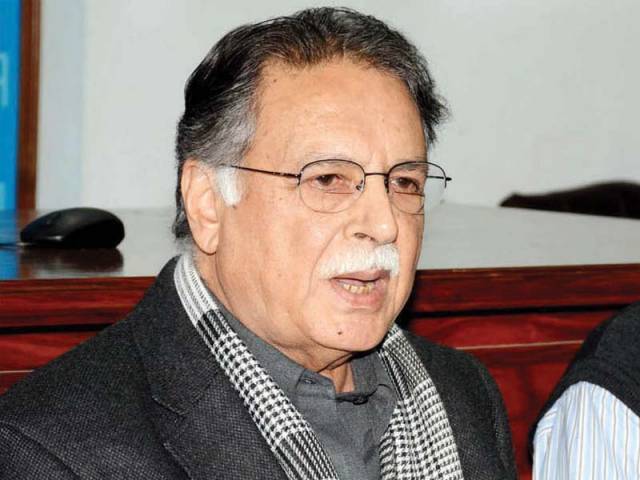 Senior PML-N leader Pervaiz Rashid on Saturday rubbished the insinuations that there was any plan in place for Maryam Nawaz to return to the country at any given time, saying it was squarely on her when to make that decision.
Speaking to The Express Tribune, the former information minister said the party vice president had a medical procedure to undertake in London, following which she will decide when to return.
He further clarified Maryam's travel plans were not restricted to a pre-booked ticket.
Asked about the party supremo Nawaz Sharif's homecoming along with his daughter, Rashid said both may or may not return together as a decision in this regard will be taken by the family in London, adding there was no such decision.
Maryam Nawaz left for London on October 6, hours after receiving her passport that remained surrendered before the court for three years. Party leaders had then asserted she was expected to stay in London for a month during which time, she was also scheduled to receive medical treatment.
An e-ticket, which showed that the return ticket from London to Doha and Doha to Lahore was booked for November 7 also added weight to this speculation.Maryam Nawaz surrendered her passport to the court in Oct 2019 for getting bail in the Chaudhry Sugar Mills (CSM) case.
However, she moved the court earlier this month again to retrieve her passport, subsequently, on Monday, The Lahore High Court (LHC) directed the deputy registrar (judicial) to return PML-N Vice President Maryam Nawaz's passport. Her name was also on an exit control list, which was earlier removed in April when her party rose to power.
Talking about the current political scenario, Pervaiz Rashid said that there was a misperception regarding the committee formed on orders of Prime Minister Shehbaz Sharif led by Interior Minister Rana Sanaullah.
He denied that the committee was not formed to negotiate with PTI chief Imran, adding it was set up for the purpose of internal coordination.
He said there were many parties in the government and all needed to be taken on board before any decision regarding the march was reached.
"All needed to be consulted with. Every party in government is an equal stakeholder, and a consensus decision is what this government will move ahead with."
Criticising the former ruling party, he said the PTI's narrative was "completely flawed".
He quipped that Imran Khan should tell his supporters that at which point did he come to know that Pakistan was not a free country and that it needed to be freed.
Secondly, he questioned, "Who are they against, America? And if yes then why have they hired a lobbyist firm there and why to take aid from them?"


Source link