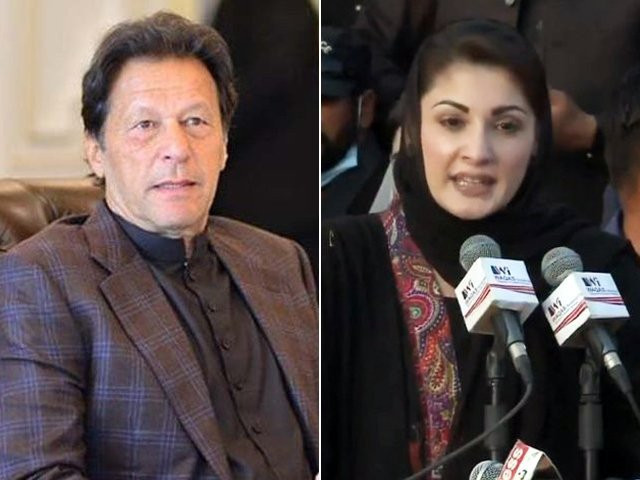 Pakistan Muslim League-Nawaz (PML-N) Vice-President Maryam Nawaz on Friday called former prime minister Imran Khan "Pakistan's worst enemy" after the second alleged audio clip of the latter regarding the cypher came to the fore.
After an audio recording of PTI leaders leaked two days ago, another recording emerged today, an alleged extension of the last leak wherein Imran Khan and others are allegedly discussing the diplomatic cypher.
The 1.09-minute-long audio emerged on social media and featured a conversation supposedly between Imran Khan, Shah Mahmood Qureshi, Asad Umar and Azam Khan about the cypher-related "foreign conspiracy" to remove the then premier from power.
The PTI chairman's voice can be heard, apparently stating that "we have to hold a meeting tomorrow, you and the three of us [Imran, Qureshi and Azam] and the foreign secretary".
Read more: Sana to head panel on audio leaks
The voice, believed to be Imran's, furthered that "in the meeting, we have to quietly tell them to write the minutes of the meeting", adding that Azam Khan had said that the meeting minutes should be drafted and photocopied.
The second voice, supposedly Azam's, asks if "this cypher arrived on the 7th or 8th," before saying that "it came on the 8th".
Imran allegedly replies that the meeting was held on the 7th.
The ostensible voice of the PTI chief constantly reiterates that "under no circumstances" should the country where the conspiracy emerged from be named.
"So on this issue please, the country's name should not be spoken by anyone. This is very important," he can be heard saying.
He emphasised that "the country the letter came from, I don't want to hear the name from anyone".
A voice reportedly of Asad Umar then asks if Imran was calling it a letter "deliberately". "This is not [a] letter, it is the meeting's transcript," Asad can be heard saying.
The voice attributed to Imran's replies that the letter and the transcript were "the same thing". "People wouldn't understand transcript. You say things like this in your jalsa."
"Even Pakistan's worst enemy cannot compete with the huge security breach the PTI chief committed while sitting in the Prime Minister's Office along with your secretary and followers," Maryam wrote on her official Twitter handle.
جتنی بڑی وسنگین سیکیورٹی بریچ تم نے وزیرِ اعظم کے دفتر میں بیٹھ کر اپنے سیکرٹری اور حواریوں کے ساتھ مل کر کی ہے اس کا مقابلہ کوئی پاکستان کا بدترین دشمن بھی نہیں کر سکتا۔سوچو ایک فارن فنڈڈ شیطانی دماغ 4 سال ملک کی تقدیر سےکھیلتا رہا اور انتہائی ڈھٹائی سے آج بھی وہی کر رہا ہے🫢 https://t.co/w4aNyIMaFa
— Maryam Nawaz Sharif (@MaryamNSharif) September 30, 2022
She said that a "foreign-funded evil-mind" person was playing with the country's destiny for four years and is still doing the same with the utmost brazenness.


Source link