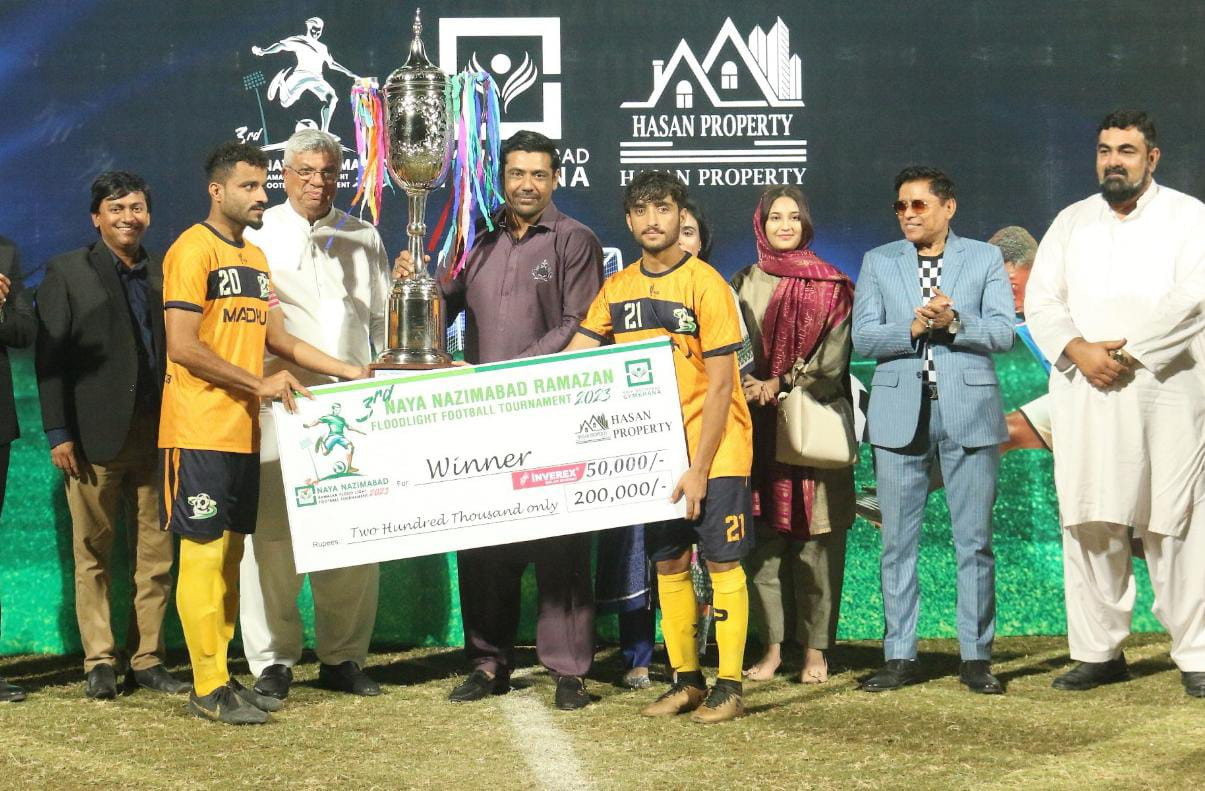 Madhu Mohammadan FC Gulshan Iqbal clinched the title of the 3rd Naya Nazimabad Ramadan Floodlights Football Tournament as they defeated Shafi Mohammadan FC Lyari FC 5-4 on penalty kicks in the thrilling final.
Ali Khan scored the opening goal of the match in the 10th minute for Shafi Mohammadan Lyari FC as the floodlit ground packed with spectators cheered on.
However, the Lyari-club's domination did not last long when Madhu Muhammadan's Shah Jahan struck the equaliser in the 28th minute.
The two teams got caught in the seesaw dynamic, making the match worthy of the annual event's finale.
Shafi Mohammadan took the lead again with a goal by Furqan Ahmed in the 38th minute, but Madhu Mohammadan replied with Muawiya's equaliser just three minutes later.
The result was 2-2 at half-time.
Shafi Mohammadan got a golden opportunity to take the lead through a penalty kick but they missed it and both teams remained goalless in the second half.
The match went to the penalty shootout that Madhu Muhammadan won 5-4 to take the trophy.
Madhu Mohammaddan reached the final after defeating FC Karachi 3-0 whereas, Shafi Mohammadan overcame Bengal Tigers Korangi 6-5 on penalty kicks in the semi final.
The special guest, national cricket team selector, and former Test cricketer Muhammad Sami distributed the prizes among the players. The winning team, Madhu Mohammedan, was entitled to Rs 250,000 and a trophy. The runners up Shafi Muhammadan pursed Rs 200,000 with a trophy.
Madhu Muhammadan's Shah Jahan received the best player award and a bike in the prize.
Amir David won the emerging player award and Furqan Baloch bagged the top scorer award.
Muhammad Sameer was declared the best goalkeeper of the tournament.
The fair play trophy went to the Malir Shaheen FC.
The closing ceremony took place in the presence of Chairman Naya Nazimabad Arif Habib, President Naya Nazimabad Gymkhana Syed Muhammad Talha, the South Asian Games gold medallist sprinter Naseem Hameed, renowned singer Hassan Jahangir, CEO Hassan Property Tariq Iqbal, Sports Officer District Central Hajra Nawab, Tournament Director Nasir Ismail, and Manager Sports Muhammad Asif, among others.


Source link