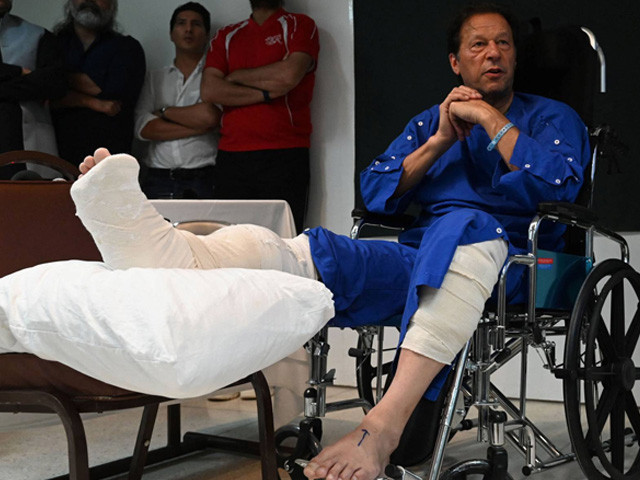 Pakistan Tehreek-e-Insaf (PTI) Chairperson Imran Khan has announced that the party's Haqeeqi Azadi march will resume on Wednesday, instead of Tuesday as scheduled earlier.
Talking to a delegation of journalists on Monday, the ousted premier maintained that no compromise could be reached with PPP co-chair Asif Ali Zardari and PML-N supremo Nawaz Sharif.
"The entire nation is prepared, and we will only return with the election date," he said, adding that his long march would achieve its aim under 'any circumstances'.
He further said that the appointment of the chief of army staff was not his "issue", and that the army belonged to the country thus it was not possible to go against it.
Read Imran urges Alvi to 'act now' to stop abuse of power
"The soldiers at the borders are like my children," he stated.
The comment comes after Imran accused a senior military official of being involved in the alleged assassination bid against him.
PTI leader Fawad Chaudhry also took to his official Twitter handle to state that the long march from Wazirabad would begin the day after tomorrow (Wednesday) at 2 pm instead of tomorrow.
وزیر آباد سے لانگ مارچ اب کل کی بجائے پرسوں سے 2 بجے دوپہر سے شروع ہو گا
— Ch Fawad Hussain (@fawadchaudhry) November 7, 2022
The PTI's Haqeeqi Azadi march, which demanded early and fair elections, was brought to an abrupt halt after Imran was shot in the leg during a procession. The attack was soon dubbed an assassination attempt.


Source link